Prepare yourself for tag-ulan with these #RainyDayTreats from TikTok
Rainy days approach so as #RainyDayTreats from TikTok food creators. POV, it's 5 am and you are preparing to go to school. While eating your breakfast you've heard the announcement "Walang Pasok" due to heavy rainfall. You changed your clothes and go back to sleep.
Moving forward, you woke up to watch your favorite cartoon show while eating some food. Here are some food to keep you warm on a cold rainy day.
#RainyDayTreats from TikTok food creators
1. Ginataang Mais
This dish will surely keep you warm. Also, it's easy to prepare and perfect all day. According to the video, combine coconut milk and glutinous rice then let it boil. Add the corn kernels then cook for five minutes. After that add sugar and cook for another five minutes.
2. Healthy Oats Arroz Caldo
If you are on a diet this is for you! Our favorite Arroz Caldo now has a healthier version. Instead of using rice substitute oats. This will surely bring comfort and warmth during rainstorms.
3.  Ramen
This dish is fully customizable. If you have any instant ramen hanging around your pantry don't be shy let's cook it.  Cook instant ramen as instructed on the pack. After that add anything you like for me I love adding tofu, vegetables, sausages, and of course cheese. Perfect partner while binge-watching on Netflix.
4. Crab Soup with Seafood Tofu
A warm soup is what we need on rainy days. In a pot pour in coconut water then crab and shrimp. Also, add in coconut meat and some seafood tofu. This soup will keep the blues away!
5. Hot Chocolate
#RainyDayTreats will never be complete without the hot chocolate. Whether it's an instant hot chocolate or homemade, hot choco will surely bring comfort. In the video, she uses one cup of milk. She then added cocoa powder and chopped chocolate. Perfect for breakfast while thinking about what are you going to do that day.
What's your favorite comfort food on rainy days? Share it with the hashtag #RainyDayTreats!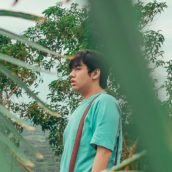 Ivan Royce Pedron
Ivan Royce is a journalism student from Cavite State University. Aside from being a writer, he is also a video content creator, photographer, and graphic designer. He likes to drink…. Coffee, tea, or maybe alcohol. Ask him for recommendations!