Shop COSRX's social media-fave skincare essentials at COSRX's Payday Sale on Shopee this May 30
Enjoy up to 70% off sitewide, and be sure to add COSRX's viral skincare products to your cart!
Calling all skincare enthusiasts! If you're on the lookout for effective and trending skincare products, look no further than COSRX. Renowned for its high-quality formulas and rave reviews from social media influencers, COSRX has become a go-to brand for skincare aficionados. Excitingly, COSRX is hosting a Payday Sale on Shopee this May 30, where you can snag incredible discounts on their social media-favorite skincare essentials. Get ready to revamp your skincare routine and unlock the secrets to radiant and healthy-looking skin. Thus, let's explore the must-have COSRX products you won't want to miss!
Sunscreens are notoriously known for leaving a tacky and heavy finish on the skin. So, COSRX developed a lightweight sunscreen, infused with aloe barbadensis leaf water, that protects the skin against harmful UV rays and soothes sunburns while providing a soft, non-greasy appearance all day.
People are now looking for products that cater to the most sensitive of skins, and Aloe Soothing Sun Cream SPF50+/PA+++ went viral for its sensitive skin- formulation. And for those who wants top-tier skin hydration and smoothness, this sunscreen is also made with aloe arborsescens leaf extract 55,000ppm for its hydrating moisturier-like finish that soothes sensitive skin. This sunscreen is also perfect for easy layering of products.
Backed with valid and reliable clinical findings, this sunscreen is proven to block UV rays of the "strongest degree." Not only does this product protect users from UV damage, but with its Vitamin E formulation, it also provides antioxidant protection.
COSRX is all about inclusivity. This is friendly for all skin types. This moisturizing lotion was also formulated with natural ingredients rich with vitamins and antioxidants to effectively calm and treat irritated skin. With 70% Betula Platyphylla Japonica Juice, this lotion prevents moisture loss in the skin and maintains hydration all day long.
Get different effects from this color-changing face mask. When the mask is put on, it starts from pink. The color also comes from pink calamine capsules which calms the skin and controls sebum. Then pink turns to black to give way to the charcoal component to detoxify and clean the pores. Finally, the mask turns to white once it dries out to tighten pores and smoothen the skin's surface. For best results, the mask has creamy spreadable consistency that fits just right, even for those with sensitive skin. You can see the mask change as fast as 10 minutes.
COSRX started research based on real consumer reviews that niacinamide is effective on acne. After running countless formulations, a ""total acne care"" serum has been developed with optimal combination of synergistic ingredients such as
N-acetylglucosamine, zinc PCA and allantoin. These work together to target acne at all stages, from cause to resolution, exfoliating, soothing and clearing post acne marks for complete acne domination!
7. The Vitamin C 23 Serum
Highly concentrated vitamin C serums are notoriously difficult to manufacture as they are susceptible to oxidation caused by external conditions and are prone to exploding due to internal gas generation. To prevent this, COSRX developed a specialized method that allows the container to expel gas whilst blocking the inward flow of oxygen to safely house the highly concentrated pure vitamin C formula. The serum also boasts a double-layer structure with an oil layer on top to maintain freshness and delay oxidation. COSRX claims that "We ensure a stable formula, with minimum irritation but maximum efficacy of Vitamin C!"
COSRX has two retinol products, and both are derm skincare products that compound retinol in high concentration. Furthermore, this is a cream containing 0.1% retinol and an oil containing 0.5% retinol. If you are also new to retinol or are a little worried about using retinol, try The Retinol 0.1 Cream. If you've already used retinol and have adapted enough, you can try The Retinol 0.5 Oil. COSRx The Retinol 0.1 Cream & 0.5 Oil was formulated with an optimal ratio of its key ingredients to prevent irritation — Pure retinol to decrease wrinkles and fine lines, panthenol to protect and moisturize the skin, adenosine to improve elasticity, and tocotrienol to reduce visible signs of aging and damage.
Embrace the skincare revolution with COSRX's Payday Sale on Shopee this May 30. Take advantage of the remarkable discounts of up to 70% off sitewide and immerse yourself in the world of COSRX's social media-fave skincare essentials.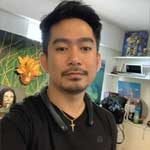 Josh Austria
Aside from being a businessman, Josh Austria has been working in PR and media industry for more more than a decade. From his years of experience as the Marketing and Advertising Head of Village Pipol Magazine, he has built strong relationships with creative people, brands, and organizations.