Regarded as Philadelphia, USA's rising superstar Pink Sweat$ earned his stripes. He also proved that every bit of praise and acclaim remains in its rightful place. His recent release of both the single and music video for Heaven, one of the featured tracks his latest full-length album Pink Planet. The album arrived last February 2021. Released under Atlantic Records, the album remains a collection of six previously-released stellar singles off of his 2020 EP The Prelude.
Pink Sweat$ celebrates album Pink Planet
Aside from that, he also has eight brand new tracks including Heaven. This song, on the other hand, drips of sensual melodies from Mr. Love himself, a moniker his legions of fans have since called him. As expected, the music video remains simply an awesome visual treat. In fact, the album highlights much-needed light and love after the rough year of 2020.
"With a purpose to heal and gift fans with much-needed good vibes, and to talk about highs, lows, fears, and successes."
Rising to international fame and acclaim with his original song At My Worst. The song remained one of his greatest performing singles to date, as the music video has more than 50-million views and counting on YouTube. More than a million homemade videos on the online video platform TikTok was created using the song. It also becomes worth mentioning that his music exploded on various global music charts and playlists. Of course, this happened often in Asian territories like Malaysia, Indonesia, and most notably the Philippines.
Collab with Moira dela Torre
So, of course, Pink Sweat$ celebrates the release of his single and album with an extra sweet and special for his Filipino fans. He also recently dropped a live performance video and lyric video of track 17, also off of the album Pink Planet. Then, this featured a jaw-dropping collaboration with none other than the Philippines' Queen of Pop and Soul Moira dela Torre. Compared to the track's original bouncy and infectious version, the collab became stripped down to its most potent version.
It will surely tug at the heartstrings of listeners, many of whom remain absolutely smitten with how disarmingly enchanting Dela Torre's vocal melodies remain to be. She also couldn't contain her excitement and reveals that it remains a timely celebration of one of many milestones in her career. Her social media exploded soon after she teased the announcement of the collaboration with Pink Sweat$ last February 2021. The Filipina singing superstar was quoted saying in a prior interview:
"This collaboration marks the third anniversary of my first-ever solo concert, and this is an extra special way to show my gratitude to everyone for the best three years of my life so far…"
Truly, this is a musical match made in heaven for music fans who have been aching for these worlds to collide. Fans of both Pink Sweat$ and Moira Dela Torre can catch the music video here:
Sing-along to the lyric video here:
CONNECT WITH PINK SWEAT$
OFFICIAL I INSTAGRAM I TWITTER I YOUTUBE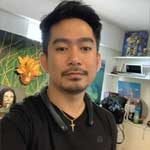 Josh Austria
Aside from being a businessman, Josh Austria has been working in PR and media industry for more more than a decade. From his years of experience as the Marketing and Advertising Head of Village Pipol Magazine, he has built strong relationships with creative people, brands, and organizations.