Diehard supporters of Filipino-Australian heartthrob James Reid may have to challenge their best if they want to catch up to Mimiyuuuh's fangirling progress.
That's right! Online sensation Mimiyuuuh is one step ahead of everybody as she could become the new leading lady to his crush. Despite the long line of admirers that await Reid, who committed to staying focused on his career, the vlogger scored points and advanced front.
Before September ended, Reid released the official music video for his latest single titled, "u & i." It was produced under Careless Music, the same record label that debuted his first studio album "Palm Dreams" back in 2017.
Additionally, Reid collaborated with the 26-year-old model Kelsey Merritt in the new MV to be his female lead. As the two naturally shared intimate interactions, they garnered ample attention across major social media platforms. Notably, their passionate kissing scenes sparked flaming responses from viewers and fans.
Among the burst of reactions, one that stood out is Mimiyuuuh's commentary on Reid's Instagram update. She left a brave remark on a post by Reid promoting the music, later escalating by surprise into a memorable interaction:
"SIR JAMES, NEXT TIME AKO NAMAN I-LEADING LADY MO," plead Mimiyuuuh. Then, taking notice of this request is Reid, who will begin entertaining.
"Okkkkk you ready for mature roles?" agrees the 29-year-old multimedia prince while, at the same time, proposing a challenge. On the other hand, Mimiyuuuh is not the type to surrender.
"WAG MO PO KONG HINAHAMON SIR JAMES! I WAS BORN READY!" exclaimed the Youtube personality. As of writing, Reid has not given his reply yet.
Internet users each had fun following this hilarious encounter. What are your thoughts? Will Mimiyuuuh be James Reid's next fitting female lead onscreen?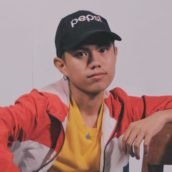 Renzneil Robles
Renzo is an introvert who prefers to do things at his own pace. Unlike most writers, he reads lazily. Watching Korean dramas at night is his constant source of comfort. Although oftentimes commended for being outspoken, he speaks better through writing than with his words.