Micca Rosal proves to be relentless, strong, and steadfast
Hailing from the city of Southern Luzon, Micca Rosal has been joining beauty pageants since she was a teenager. With her confidence in her competency, this exquisite young woman is surely a strong contender!
Micca Rosal proves her determination through the years in pageantry
Participating in the reputable Binibining Pilipinas has been Micca's dream ever since she was a child. Knowing that she's born for this industry fuels her motivation to put all of her efforts into the journey to the crown. Through an exclusive interview, let's get to know her more and how she perseveres for her goals.
Micca Rosal was only 15 years old when she joined Mutya ng Batangan to represent her hometown Agoncillo. It opened the doors for her so she continued joining several pageants after that, However, she temporarily stopped joining local beauty contests to focus on her studies during her college years. Even then, Micca was in school pageants and won Ambassador of Goodwill in 2011 and Ms. Lasallian Cup in 2014.
After finishing her studies at De La Salle Lipa with a Bachelor's Degree in Accounting Technology, she became a Certified Bookkeeper. She also worked as an Accountant at a BPO company for almost 6 years. The mesmerizing young lady made her comeback in 2017 as she bagged the titles Mutya ng Pilipinas-Southern Luzon 4th Runner up and Miss BPO. With a long experience in local pageantry, Micca is now ready.
Giving a good fight for the crown with preparations and sacrifices
But then, 2020 was a tough year for Filipinos. Especially for people in Batangas because of the Taal Volcano that erupted around January that year. Micca said that she hesitated to submit her application that time because they are in a hard situation. They were staying at the evacuation center for a month. She kept on thinking if that's the time to continue her dream.
Aside from that, Micca admits she is experienced difficulties in juggling work and training. Since the Binibining Pilipinas is once a lifetime chance for her, she decided to quit her job and focus her energy on preparations. She is having personal Q&A training sessions with Sir Noli Javier plus Q&A training sessions with KF girls.
Whenever she's in Manila, Micca attends pasarela training at the camp. With help of her handler, she begins studying basic pageant hair and makeup also started learning the basic pageant hair and makeup through the help of her handler.
Staying strong with self-care
Regarding the criticism on social media, Micca simply doesn't pay attention to them. She thinks that there's no point pleasing everyone since they always have something to say. On the other hand, she dutifully takes notes of constructive criticisms since she's welcome to accept suggestions to improve herself as a candidate.
Even though she's pushing herself in training, this lovely girl still manages to relax and unwind. Because caring for her mental health is essential, Micca finds time to be closer with her family. Another is cutting off toxic people even it's hard to do because it helps her find peace in her heart.  She added further,
"But one thing that really helped me is prayer. I lift everything up to the Lord, all of my heartaches and struggles. After each prayer, I find peace."
Finally, when we asked Micca what quality a Binibining Pilipinas beauty queen should have, she answered strength.
"I believe that the organization is looking for strong women, women who have ears that are ready to listen, hands that are keen to care, and a heart that is willing to love. Women who have the courage to be the voice and instrument of hope and bravery to stand up and raise our flag with so much pride and honor. Someone who has a pure heart for making a positive change to the community."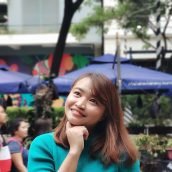 Queenie Lastra
Queenie Lasta got her bachelor's degree in Communications Research from UP Diliman. In her free time, she likes to read thriller novels, psychology books, and mangas. She believes in the importance of grit, hard work, and passion to become a great writer in the future.