ASUS PH is continuing to bring its guns this 2020 with a lively and interactive kickstart for their two productivity laptops. The virtual launch is short, informative, and full of energy and the company was really able to describe the power and elegance of the ZenBook 13 and VivoBook S14.
11 years of innovation of ASUS in the Philippines
Before going on the product features, ASUS PH Country Head  George Su gave a heartfelt and enthusiastic speech about the company's milestones not just by profit but also the help it was able to extend to others. Even with the ongoing crisis, ASUS was able to donate laptops to various organizations in the government, health, and education. He emphasized that all of their efforts became possible with the support and brand love from the consumers.
ZenBook 13 is an excellent partner for work-from-home individuals
After that, Radio DJ Jasmin Reyes cheerfully introduced the ZenBook 13 as her work-from-home partner. Judging on how it looked on the screen, the laptop looks sleek, light and sophisticated. Moreover, its display has thin bezels so it looks so immersive even at 13-inches.
Aside from that, ASUS equipped the ZenBook 13 with the latest 11th gen Intel processor so we really expect it can seamlessly perform for multi-tasking. And I think it's a good thing that it allegedly can last up to 15 hours of use. Aside from that, this one sports complete I/O ports plus two Thunderbolt 4 USB-C so data transmission won't be a hassle. The most intriguing feature for us is the innovative ASUS NumberPad 2.0 that features dual function. First, it works like a number keypad and at the same time use it to control your cursor.  Cool, isn't it?
ASUS noted that the ZenBook13 is crafted for professionals working remotely like Jazmin Reyes, freelancers, entrepreneurs who really lead busy lives.
We think that ASUS really made sure that the ZenBook13 will really fit the lifestyle of those working remotely. It's sleek but at the same time packs enough power so you can work in a café or public space if you need to. And 11th gen Intel processor is more than enough to run heavy applications so there wouldn't be much of a lagging problem.
This also would mean fast bootup too. And ports are everything if you are working with other people and you need to transfer files multiple times. These are the factors why we think this laptop's specs are excellent in terms of productivity.
VivoBook S14 symbolizes Gen Z's aspirations
The next and last laptop released for that night is the ultra-stylish yet capable VivoBook S14. Filipino actor/model Teejay Marquez confidently talked about the highlights and features of the said laptop.
Teejay explained briefly why the VivoBook S14 is perfect for the young generation belonging to Gen Z. He started off by introducing the chic color options like Gaia Green, Resolute Red, Dreamy White, Indie Black. He emphasized that Gen Z users like him are all about the visuals so they like how they can express themselves through their devices.
As Teejay said in his presentation, the VivoBook S14 is not only about the looks since it also comes with an Intel i5/i7 11th gen processor with NVIDIA MX350 Graphics. The company even equipped this one with its own Intelligent Performance Technology (AIPT) to increase the overall performance as much as 40 percent.
Students who want to be video editors or content creators will truly enjoy the Nano Edge technology of its display. ASUS combined it with 100% sRGB Color Gamut for precision in those tasks. Lastly, young users can have fun and convenience using this laptop with its one-touch log-in and personalized stickers.
We think that this VivoBook S14 can be fun and powerful at the same time like Gen Z. Students can juggle many things at the same time with Intel's 11th gen processor plus NVIDIA MX350 Graphics.
And it's a great thing that ASUS made the bezels of this 14-inch laptop as thin as they can. Looking at the screen only during the event, it's undeniable that it's a beauty. And on top of it, we think that they made a great selection of colors for the VivoBook S14. From the screen, the jewel tone colors are really eye-candies and unique.
Price and availability
Finally, Teejay and Jazmin were together for the price reveal of these two devices from ASUS. The i5 variant of ZenBook 13 (UX325) in Pine Grey color costs PHP 54,995. Meanwhile, you can purchase the VivoBook S14 (i5) in four colors for PHP 49,995. Its i7 variant that has two colors only (Dreamy White and Indie Black) is PHP 59,995.
For those who are interested, the ZenBook 13 and VivoBook S14 is now available in ASUS concept stores nationwide. We can hardly wait for the upcoming events and from ASUS for the last quarter of 2020!
Any thoughts on these laptops from ASUS?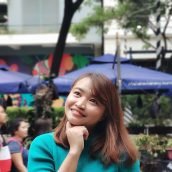 Queenie Lastra
Queenie Lasta got her bachelor's degree in Communications Research from UP Diliman. In her free time, she likes to read thriller novels, psychology books, and mangas. She believes in the importance of grit, hard work, and passion to become a great writer in the future.