Financial goal setting is the key to achieving the big dreams you have for your for you and your family. Even if you're earning well, you should know how to manage your resources wisely. If you don't practice this earlier, you might have no savings left for emergency purposes. The worst case is, you might find yourself drowning in a huge pile of debt.
Financial goals feels unrealistic? Here are some ways to set them for 2021
Having the right financial goals will help you track the progress you make towards your vision. Whether it's saving up for a wedding, your dream house, or a nice car, you should always set a goal. Here some realistic and smart goals, money-wise that we can recommend for you this year:
Pay all your debts, one by one
Here's a thing, it's really hard to save if you still have a lot of existing credit card debts or bank loans. So what to do? You can list them down then choose to eliminate them, even one at a time. It's better to deal with the one that charges the highest interest rate but it's all up to your budget.
Set up your bank accounts
It's common knowledge that you should have a separate payroll account and savings account. However, financial experts say that creating bank accounts for specific purposes is much better. Why? It ensures that your funds for a designated need, let's say travel fund, remain intact. You won't need to spend it if you already have a miscellaneous fund for car or home repairs.
Start your emergency fund
Since we're already living in uncertain times like this pandemic, it's a priority for everyone to save up for emergencies. We cannot be complacent that we have our jobs that generate a monthly income since companies can lay off employees if they have to.  The practical thing to do is to build an emergency fund that can cover your expenses from 3 to 6 months.
Investing in insurance while you can
Nowadays, life insurances are now more versatile and encompassing compared to the past. You can make use of your life insurance while you are still alive. For example, you can claim payouts if you are suffering from a critical illness or a car accident. Sad to say, PhilHealth and HMOs cannot cover all expenses so you should be always ready for these circumstances.
Shop smarter
One thing that this pandemic has taught us is to have contentment in what we have. Learn to distinguish your needs from your wants. We're not saying that you can no longer reward yourself for all of your hard work. Just avoid spending too much on the things that you won't be using much. Instead, you can save up for something that you really want and at the same time enrich your life.
What other tips you have in mind? Feel free to share them with us!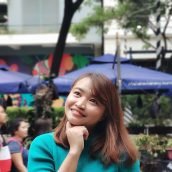 Queenie Lastra
Queenie Lasta got her bachelor's degree in Communications Research from UP Diliman. In her free time, she likes to read thriller novels, psychology books, and mangas. She believes in the importance of grit, hard work, and passion to become a great writer in the future.