Dolly de Leon does not bag the Golden Globes Best Supporting Actress award but still makes PH history
Photos | Fredrick Wenzel | Getty Images via AFP
Dolly De Leon does not bag the win for supporting actress award for her performance in the movie Triangle of Sadness at the 80th Golden Globe Awards in Los Angeles, United States.
On Tuesday (US Time), Angela Bassett for Black Panther: Wakanda Forever receives the recognition.
Prior to the awards show, Dolly described her Golden Globe nomination as a first for any Filipino talent—that it is not the "be-all or end-all" of her life and career. She previously said,
"I am hoping na manalo tayo but if another actress wins, then she also deserves it."
Meanwhile, she shared a meaningful statement that indeed inspires every person to not be pressured when it comes to honing one's craft and achieving certain goals.
"Somebody asked me when I realized I have arrived. What is that? There is no zenith or summit, only the process of struggling to be better in your craft, to be kinder as a person." 
Dolly has recognized how her achievement has opened a wider opportunity and appreciation for Filipinos. However, what is more significant to her is continuing her pursuit to become a better actor and human being. 
See Also
The actress is also the first Filipino to win the best supporting performer award at the Los Angeles Film Critics Association. She will personally receive the award on January 14 in Los Angeles. Dolly is also regarded as a strong contender in the Academy Awards' best-supporting actress nominations.
Just recently, she joined British Vogue's 2023 Hollywood Portfolio for the World's 30 Most Famous Stars.
Of course, we are certainly looking forward to her future projects. She will be seen next in the new ABS-CBN series Dirty Linen where she plays a pivotal role.
We're very proud of you, Dolly!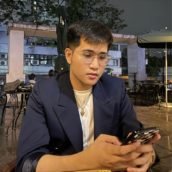 Raphael Garcia
Raphael is a person born between the generations of Millenial and Gen Z. He was produced by Cavite State University (Main Campus) with a bachelor's degree in Political Science. The lad has a fresh take on things, but can still stay true to his roots. He writes anything in Pop Culture as long as it suits his taste (if it doesn't, it's for work). He loves to wander around the cosmos and comes back with a story to publish.