"Take as much as you need and give whatever you can" remain the idea behind the concept of community pantry. This initiative started a couple of weeks ago. Then, it quickly cascaded in several parts of the country, not only in cities but in provinces as well. However, the Department of Health (DoH) expressed some concerns in terms of the risk of spreading COVID-19. Especially, in those areas with community pantries.
DOH recommends: A community pantry should have health protocols
On Monday, a Health official recommended the issuance of health guidelines for community pantries. This came after a man passed away while waiting for his turn to avail free supplies from a pantry in Quezon City. Health Undersecretary Maria Rosario Vergeire spoke about this recently. She said that there will be no need for community pantry permits. But then, local government units should implement health guidelines.
"We need to look at the other side. It also imposes a risk to our citizens because of the lack of standards that are being complied with. Especially, when you have these community pantries."
Vergeire noted that the public health emergency remains ongoing. So, most people must keep that in mind whatever activity.
"We all know that there is this pandemic and public health emergency. We have to be mindful of what can result from any activity or help that we are going to provide."
Quezon City issues guidelines that include crowd control and health protocols.
Community pantries sprouted across the Philippines after Ana Patricia Non started her own. It was located in Maginhawa, Quezon City.
Red-tagging causes a boom in donations for the Maginhawa community pantry.
Vergeire said the DOH has no authority over the operations of community pantries. Also, they will not recommend the closure of these charity hubs.
"We are not going to restrict this kind of activities because it is a big help to our citizens but we have to be aware and we have to be cautious of the consequences of these actions… We're just there to give standards for health pero ang sinasabi lang po namin, maganda po ang intention nito pero kailangan susunod pa rin tayo sa mga protocols."
(We're just there to give standards for health but what we are saying is that although the intention of this is good, we still have to follow protocols.)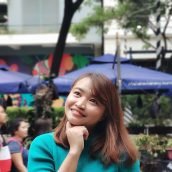 Queenie Lastra
Queenie Lasta got her bachelor's degree in Communications Research from UP Diliman. In her free time, she likes to read thriller novels, psychology books, and mangas. She believes in the importance of grit, hard work, and passion to become a great writer in the future.