Food That I Usually Crave Before My Period Begins
Periods are never easy. Even before it begins, your pre-menstrual syndrome already makes you suffer. It's as if the torment during your actual period is not enough yet. Every month comes hormonal fluctuations, constant mood swings, menstrual cramps… the list goes on.
To top it all off, the items on your food cravings list suddenly skyrocket. Your yearning for them goes more intense, too, like you'd do anything just to get your hands on them. As someone who goes through this struggle monthly, I finally decided to make a list of my most common pre-menstrual cravings. See if you can relate, too!
Food That I Usually Crave Before My Period Begins
Souffle pancake
Souffle pancakes secure the fifth place of my cravings. Fluffy, jiggly, delectable, and very light to the mouth – doesn't it sound like a dream? If clouds were dishes, this would probably be their equivalent.
Souffle pancake is a variety of pancakes that is thicker but with a lighter texture. Usually, it is topped with more than just butter and maple syrup. Oreos, blueberries, and even boba pearls are just among the few of its most common partners.
Souffle pancakes boomed in social media this year and with all those mouth-watering social media posts, how can you not crave it? Honestly, the first time I ever saw it, I couldn't take my mind off it anymore. Every month, my longing for it haunts me. I truthfully haven't had a souffle pancake yet but, hey, would that stop me from adding it to my list of cravings? Nope! Just the more reason why I'd go crazy over it.
Cheesecake
The fourth in my list of cravings is no other than the piece of heaven itself – cheesecake! As a dairy lover, this will always be present on my list. Nothing beats its custard-like texture and the sheer creaminess that this dairy treat brings. Together with the crushed graham underneath it all crafts an indescribable dessert. And when you top it with fruits like blueberry or strawberry? Oh, the most perfect cake to ever exist. I can only thank the heavens that I am not lactose intolerant; I can enjoy this treat in all its glory.
Takoyaki
Enough with the literal sweet talk, the third in this cravings list is a savory dish! Made with a remarkable batter and seafood (usually, octopus) batter, this round, tasty treat seems to be something that my tongue always looks for whenever my shark week approaches.
There is just something about it that I always miss unfailingly. Is it the flavor? The seafood hint mixed with the comforting, familiar batter taste? Is it the toppings – seaweed, cheese, and Japanese mayonnaise? Maybe it's the strong addition of pork floss or the satisfaction that it brings especially when you pop it in your mouth while it is still hot. Regardless, I always crave it, and I see to it that I would get myself a box or two whenever I can.
Kwek-kwek (Fried Orange Quail Eggs)
I also crave kwek-kwek! Honestly now, who doesn't crave kwek-kwek? Resembling Japan's tempura preparation-wise, kwek-kwek are hard-boiled quail eggs coated and deep-fried in orange batter, as panlasangpinoy.com said. This Filipino street food staple is usually paired with a special kind of sauce created by the street vendors themselves. Push it down with a refreshing gulaman and I can guarantee you that you will already be solve'd after a few bites.
For me, kwek-kwek will always be one of my comfort food, so it's only natural that my cravings for it also boosts up during my pre-menstrual phase. Not only it is uniquely tasty – there is also inexplicable nostalgia that washes through me whenever I eat it. In all phases of my life, there has been kwek-kwek – elementary, high school, and college. Even during my lowest point, I would buy kwek-kwek just to comfort myself. Without a doubt, it is highly crave-worthy!
Churros
I have only had churros twice in my life but they still managed to be on top of my cravings list. Is it a surprise? I don't think so! Especially when this deep-fried dough offers a luscious experience with its crisp texture and succulent insides. A dessert that is not super sweet, cinnamon sugar as sprinkles and melted chocolate as a dip are, for me, its best complements!
For some reason, I crave this monthly, without fail, whenever my period is close. It is so frequent that it even came to a point that I use it as an indicator that shark week is almost here. I think the fact that I don't eat it often majorly contributes to why I crave it intensely. Does that make sense?
At the end of the day, my cravings remain as cravings mostly because I am just stuck at home the majority of the time. On top of that, pre-menstrual struggles such as feeling constantly lethargic essentially forbid me from even attempting to leave my house. I hope writing about this has eased my cravings even just for a little bit (By the looks of it, I think not). You feel me? Which part of my list do you resonate with the most?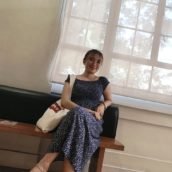 Moira Jozielle Sulit
Moira is a clumsy extroverted writer who scribbles about everything that piques her interest. That includes her own emotions, love, life, love life, music, books, you name it. Albeit reliant on her random bursts of creativity to get going at times, she is ingeniously curious and dependable, and talks to her seven cats as a stress reliever. She has found home in writing ever since she was a child and sees it as the sole legacy that her parents she barely knows has left for her.