There were many features or changes when iOS 13 update arrived in our Apple devices. After that , the iOS 13.5 brought support for Exposure Notifications for contract tracing.  The 13.5.1 on the other hand included a vulnerability patch while the iOS 13.5.5 beta allows us to have a sneak peek at the Apple News + Audio. So what does the iOS 13.6 have in store for users?
What can we expect from the iOS 13.6 update?
According to 9to5mac, iOS 13.6 is officially available for download. The update entails new features and better support for downloading and installing system updates. Aside from that, it's bringing Apple News+ Audio content and a brand-new car key feature.
Apple revealed the details of the latest update in a Newsroom during its release. Lauren Kern, editor-in-chief of Apple News said, "Apple News showcases so much great journalism, and we're excited to help bring it to life in new ways with Apple News+ audio stories and a new daily news show, Apple News Today. "
Unlock or lock your car with your iPhones
The second new feature is the new Digital Car Keys feature that allows users to unlock, lock, and start their cars with their iPhones by using NFC.  With this feature, Users can also share the digital key via iMessage to allow others to drive their car with restricted access.  This includes a power reserve feature that lets users unlock and start their cars up to five hours after the iPhone runs out of battery.
Monitor your health by logging new symptoms
Moreover, Apple tweaked its Health app in this new release by adding a symptom tracker. This feature allows users to take down and log their new symptoms such as fever, coughing, sore throat.  They have an option to share it with third-party apps. The can also include symptoms logged from Cycle Tracking and ECG.
iOS 13.6 will be rolling out gradually to all users so you can check the Software Update section of Settings on your device to see if it's available.
Are you excited to try out these new features and functions?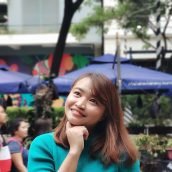 Queenie Lastra
Queenie Lasta got her bachelor's degree in Communications Research from UP Diliman. In her free time, she likes to read thriller novels, psychology books, and mangas. She believes in the importance of grit, hard work, and passion to become a great writer in the future.