These seasoned local celebrities prove that TikTok can be fun at any age!
If you think TikTok is only great for Millennials and Gen Z-ers, think again. Everyone can join the community on the app, regardless of how old you might be. It will never be too late to start creating content on TikTok. So, we have found five accomplished actors and TV personalities who can prove that fact. John Arcilla, Ai-Ai Delas Alas, Gardo Versoza, Amy Perez, and Gina Pareño are all seasoned local celebrities as well as thriving creators, each with thousands of followers and fans on the app. Check out some of their amazing content in our roundup below.
5 Seasoned Filipino Actors and TV Personalities to Follow on TikTok
John Arcilla may have a reputation for being a serious actor, but his TikTok content gives fans a glimpse of his funny side, too, like his comedy dubbed videos, which bring smiles to many of his followers. He also uses this platform to engage with his followers, and answer their questions. Here, he replies to a fan who asked about his portrayal of Gen. Antonio Luna in the historical film Heneral Luna, a role that this multi-awarded Filipino actor is best known for.
Through her TikTok account, the Queen of Philippine Comedy has taken her funny antics from the big screen to the internet. While Ai-Ai Delas Alas never fails to make fans laugh, she shows other aspects of her life through her TikTok content, too. In this post, we get a glimpse of the famous comedienne as a mother having fun while dancing together with her son.
Popular 90's actor, Gardo Versoza, is another must-follow personality on TikTok when you enjoy watching funny videos. In films and TV shows, you often see Gardo playing manly, macho roles, but on TikTok, he isn't afraid to let loose. He has even shared videos of himself dancing along with his wife, Ivy!
Better known as Tyang Amy, this  TV and radio host proves that even titas can thrive on TikTok. Amy Perez shares a lot of dance videos as well as comedy content using her own hashtag, #funnytyangamy. Sometimes, fellow hosts and actors making cameo appearances, too, when this TikToker mom posts from backstage.
Award-winning actress, Gina Pareño, is known to her TikTok followers as Lola Gets. At 71 years old, she still enjoys posting on TikTok. She shares content that is cute and funny. Lola Gets even joins millennial dance challenges to the delight of her fans, proving that TikTok knows no age limit.
Be sure to follow these accomplished personalities on TikTok, and check out even more awesome creators on the app! Download TikTok on your iOS and Android devices today to get started.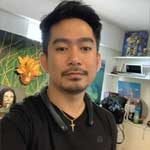 Josh Austria
Aside from being a businessman, Josh Austria has been working in PR and media industry for more more than a decade. From his years of experience as the Marketing and Advertising Head of Village Pipol Magazine, he has built strong relationships with creative people, brands, and organizations.