Knowledge and creativity come together through this encircling collaboration. Filled with interesting and informative content, TikTok has become an enjoyable app for learning. People can learn everything from science and math, arts and crafts, and even cooking. Of course, these come from creators on the platform. Apart from videos being short and easy to understand, creators also share teaching content on the app.
Aside from that, it also involves a lot of creative expressions, too, making the process fun for both educators and viewers. Pursuing partnerships that promote learning in a fun and entertaining way, TikTok collaborated with GMA News and Public Affairs program, AHA! With Drew Arellano as the host of the educational program, they showcase facts and trivia on a wide range of topics.
TikTok and AHA! Officially Launch Their Partnership on May 23
On this day, a special #AHAmazingLearning segment featuring TikTok EduCreators aired on the show. They officially launched the partnership on May 23 through a special #AHAmazingLearning segment. TikTok EduCreators had the chance to share amazing ideas and information, science experiments, and artsy tutorials on national television. The grand episode also featured the launch of AHA!'s original mascot.
As a platform for creative expression, the video-sharing app also makes learning enjoyable. Now, through this collaboration, TikTok expands its reach as a learning platform. Connecting with more Filipinos and making education even more fun for everyone. Especially, with taking #AHAmazingLearning from the app to their TV screens.
The partnership between TikTok and AHA! kicked off with the #AHAmazingLearning campaign on the app last May 12. For the campaign, all TikTok creators can share AHAmazing facts, cool experiments, and fun art tutorials. Of course, they should use the #AHAmazingLearning hashtag until June 30, 2021. At the end of the campaign period, AHA! will select and feature the best TikTok videos!
Share and discover #AHAmazingLearning content on TikTok today! Download the app on your iOS and Android devices to get started.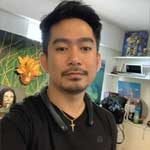 Josh Austria
Aside from being a businessman, Josh Austria has been working in PR and media industry for more more than a decade. From his years of experience as the Marketing and Advertising Head of Village Pipol Magazine, he has built strong relationships with creative people, brands, and organizations.