One good way of cheering up someone is through good food, that's why we have the adage, "the way to a man's heart is through his stomach".  Possibly, that's one of the reasons for the joy we feel during gatherings, aside from the quality time. But not all are experts in the kitchen. And even if we know how to cook, not all have the time or energy to prepare something special on short notice. Thankfully, there are some online shops in the metro that delivers group meals. If you're looking for dishes that are not only trendy but also affordable and hit the right spot, we gladly introduce you to Food Spot Manila by Earl Sampaga.
Passion for cooking and content creation
Earl Sampaga and his friend JM had conversations about establishing small businesses during the quarantine. After that, Earl realized that he can put up an online business so he decided to go with Food Spot Manila last month. Since he is fond and interested in trends, he uses the word FOOD SPOT for branding. He added Manila since he's residing within the metro.
Just like other businesses that started during the pandemic, Food Spot also had its share of problems. Earl recalled that he encountered a lot of challenges during the start of his online business and one of them is budget. He had limited capital since his only source is his blog as a content creator. There were also slow days because people do not have a craving for their dishes. As its owner, he was able to overcome those issues by doing his best to promote his products to the right market and selling them at a competitive price.
According to Earl, for a food business to be successful it should be effective in terms of taste, sales, demand. He said, "You have to consider 4Ps: of Marketing: Product, Price, Place, and Promotion in decision making. All of those things will be possible if we do it with dedication and passion." Even it's not easy to manage a business during this crisis, he said that he will continue to do so. His drive comes from his passion for cooking, content creation, support of friends and family, and my dedication to my study which is marketing management. He added, "I also want to help my family during this quarantine season and to make myself productive."
Balancing the price and the quality of the dishes
The owner mentioned that he partnered with his friends for the recipes and preparation of ube cheese bread and takoyaki. But his pride and joy is the kare-kare with bagnet. He formulated the recipe and made the sauce creamy and flavorful while still capturing the flavor of the traditional kare-kare. Earl added that deep frying the bagnet is his favorite part of cooking this dish.
As for its best-seller, he shared that Ube Cheese Pandesal and Takoyaki are the shop's go-to items. Moreover, his customers send great feedback about these dishes. They mentioned to him that the couriers were able to deliver the food while still hot. Earl even shared, "  They love how my products are SIKSIK with ingredients and sulit that starts at 150 pesos!"
The Food Spot Manila also offers delivery for Korean samgyupsal sets that you can cook at the comfort of your own home. Earl makes sure that his products are well-packed and high-quality so customers can enjoy their meat to the fullest.
This online shop also sells a cheap griller with a pot for them to complete the Korean-style experience. Soon, the shop is going to introduce trendy foods in the near future as a plan for expanding its menu.  As it is eager to invade Korean foods, you'll expect new dishes and desserts from this cuisine.
How to order from Food Spot Manila?
Food Spot Manila caters ready-to-cook foods or cooked meals and delicacies such as Kare Kare Bagnet Trays, Ube cheese pandesal, Takoyaki, and Graham de Leche for affordable prices. Some influencers and celebrities already tried these dishes such as Janeena Chan, Krissy Achino, Ic Mendoza, JV Cruz, Bea Borres, and others.
For those who are interested to order and pick-up,  FOOD SPOT MANILA is located along Naga Road, Pulanlupa dos, Las Pinas City. They also allow delivery services within Metro Manila and nearby areas in Cavite and Laguna. The shop considers all safety protocols in sending the items and they also have GCash and bank transfers for cashless transactions. For inquiries, you can visit its Facebook account. You can also fill up this form to order online.
Now, who's hungry?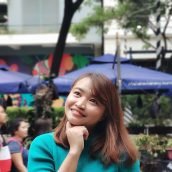 Queenie Lastra
Queenie Lasta got her bachelor's degree in Communications Research from UP Diliman. In her free time, she likes to read thriller novels, psychology books, and mangas. She believes in the importance of grit, hard work, and passion to become a great writer in the future.