Jewelry has ways of leaving an impression about you despite its small form. The right accessories also help in highlighting your best features. They bring attention to your neck and face, which are the most beautiful and graceful assets any woman has.
Plain J represents the everyday style of modern ladies
We got the chance to interview the very hands-on co-owner of Plain J, Ms. Kassandra Tan. Kassandra or Kay loves simple things and traveling before COVID-19. She also loves anything related to fashion, inspiring to build Plain J.
Before starting Plain J, Kay worked in a multinational company in Hong Kong. She always had wanted to contribute to the jewelry industry so she saved up some funds to implement her plans.
With the help from her business partner Ben, they initiate their own jewelry line-up in HK in 2016. Kay said that Ben is in charge of the supply chain, making it possible to produce elegant pieces of jewelry and for long-wearing. Meanwhile, Kay's focusing more on the business side since Plain J since it's growing so fast.
In terms of materials, Plain J sources out high-quality metals such as 18K Chinese and Turkish gold, 925 silver from France. In case of supply issues, they get alternative options in other places. They even produce a collection made of Peruvian gold.
Kay herself designed some of the pieces from Plain J during its humble beginnings. She admitted that she got her inspiration from her own clothes and even visualized how the jewelry should look.
"For example, when I'm preparing to head out, and I got dressed and looked in the mirror, I would always be like 'oh this shape of my earring should be snugger, oh the pearl is too big, oh there should be more curve on the hoops.' So that's where I visualized and make jewelry out of it. And we started ONLY doing earrings. Because I'm more of an earrings person. But along the way, many ladies asked for necklaces, rings, and we started doing them after A LOT of studying."
Growing jewelry empire with satisfied customers all over the world
Everything is handmade but the time to create a piece of these masterpieces depends on the design. Basic designs like the pearl studs are relatively easier to make but some items are much more complex in terms of process. Right now, they are also starting to pick out trends so the craftsmen can produce the right models in the right quantity.
As this jewelry business is growing, it also starts to encounter issues. They are now facing a problem in terms of the supply chain. Since Plain J is trying to lower the price of the jewelry, they can't have them delivered through an express service. Because of that, they always strongly recommend basic simple trackable shipping options.
On the other hand, this business venture garnered praises and positive feedback from their customers. Some said that their products are the same in person compared to what it looks at on their website.
"Because our customers cannot feel nor touch our products, so our loyal customers have placed their trust in us when they first receive their jewelry and see that it is exactly how it looks on our website."
Good feedbacks from customers fuel their drive to continue the business. These reviews motivate Kay and her team to keep doing what they do best. They envision Plain J as a brand that can serve the needs of every lady. This is the reason why they sometimes release statement pieces, chunky jewelry. However, plain and simple pieces are always their mainstays.
The brand is launching a bracelet collection soon and due to popular demand, it's planning to expand the latest white sapphire collection!
Simple and understated sophistication from Plain J
Other cultures have associated pearls with chastity and modesty. but I think they always give you a classic touch. We often see pearl studs or dangling pearls whenever I shop in boutiques or even online. But I must say that the Celine Pearl Ear Jackets are one-of-a-kind.
Plain J makes these ear jackets are from vermeil and freshwater cultured pearls. Freshwater pearls come from oysters that mature in non-saline water, such as lakes and ponds. Meanwhile, Kay explained that vermeil is a specific type of gold-plated jewelry that ensures there is a certain thickness to the gold plating.
For example, gold-filled jewelry is definitely the most premium, then come gold vermeil, then basic fashion jewelry that is normally plated are ranked last.
I love how these ear jackets perfectly hug my earlobes so they did not hurt after wearing them all day. This pair instantly gives off a classy vibe, making them perfect for the workplace and even for dinner dates with your friends and partner.
Got multiple piercings and want to spice things up? In this case, the Luella Huggie Hoops can bring casual yet chic appeal to your attire. This pair is crafted in 925 French silver while the leafy patterns are hand-soldered.
Up close, you can appreciate the fine yet intricate handiwork on the silver leaves. These are far from the fancy and cheap knockoffs you often find in malls and online stores.
After that, they undergo micro-plating for silvertone settings. Micro-plating is done on jewelry to keep the product price more affordable while achieving a beautiful appearance same as solid gold or silver jewelry.
All women must have that kind of earrings: the pair that goes with almost every outfit in their wardrobe. I honestly can say that the Heidi Mini Hoops is to its tagline, "small yet powerful". Why? These tiny hoops go so well with shirts, dresses, polo shirts, and even sweaters.
According to the website, the Heidi Mini Hoops are made with Turkish gold vermeil that is cut throughout the edges by hand. After that, the jewelry makers micro-plated them to make them shinier.
This is by far my favorite among the three earrings because of its versatility and simplicity. I think this pair reignited my love affair with hoops and everything minimalist.
Be it silver or gold, wearing a necklace adds a touch to your personality. A glimpse of it can tell people much about your fashion sense and style. The Iva Circle is the first-ever necklace in Plain Jane's collection.
This stunning piece is made of 18k Chinese gold vermeil with a hanging circle as a pendant. You might think that the pendant would be so boring but the shape is quite stylish. The length of the chain is just right so the pendant rests perfectly on the middle of the collarbone.
Like me, many Filipinas got the yellow undertone so the gold vermeil really does good to the complexion. The Iva Circle Necklace also has that elegant charm so it appears to be sophisticated even I'm only wearing a shirt. Needless to say, it can also upgrade any formal look.
Overall, all of the pieces are ideal for daily wear yet classy enough to be worn on special occasions. Another huge plus for me is the quality of the materials they used to make these accessories.
For me, I would be willing to spend an extra on something that will last me for several years. It's important that they can withstand sweat and dirt since we're living in a humid country. I believe that Filipinas will really appreciate Plain J's aesthetics since we don't fancy anything too loud or outstanding.
The brand understands that we want something simple, something that doesn't have too much attention but yet, complements our outfits.
How to order from Plain J?
For those who want to order, you can visit Plain J's official website and place your order there. They are in the middle of integrating GCash in their payment methods but they are accepting PayPal and bank transfers as of the moment.
In terms of delivery, Plain J ships every item from its studio in Singapore. Aside from that, it partnered with a great forwarder to provide an affordable yet traceable shipping option to the Philippines. Now, the standard shipping fee is FREE so Filipinas can receive their parcels within 1 to 2 weeks!
Go ahead and showcase your feminity these holidays with these minimalist yet luxurious pieces from Plain J! They can also make a nice gift to your mom, sister, partner, and BFFs!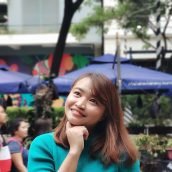 Queenie Lastra
Queenie Lasta got her bachelor's degree in Communications Research from UP Diliman. In her free time, she likes to read thriller novels, psychology books, and mangas. She believes in the importance of grit, hard work, and passion to become a great writer in the future.