Sharp celebrates its 10 millionth mark of washing machine and 40th Anniversary
In its 40th anniversary celebration, Sharp Philippines marks the 10th Million production of its washing machine. It continues to provide ease of comfort and a reliable partner to every Filipino household.
Sharp has a commitment to producing advanced products such as its washing machine. The company stays true to its values of sincerity and creativity.
"As our Anniversary motto goes 'We live by the people, we prosper with the people, we will continue to provide innovative products that will make life comfortable and convenient" shared Sharp Philippines President and General Manager, Mr. Kazuo Kito. Sharp also believes in the capabilities of Filipinos in terms of local production. "The Philippine market is very unique in many ways that is why Sharp continues to strengthen and expand its local production to deliver products that are built with Japan Technology and fits the Filipino needs and lifestyle", added Mr. Kito.
The growing demand for more quality time and the increasing cost of utility bills in many Filipino households was rampant. Hence, Sharp started its washing machine production line in 1987 with the objective of assisting Filipinos with their everyday struggles.
More than just serving the purpose, Sharp continued to find new ways to manufacture energy-efficient products. In fact, Sharp re-invented traditional washing methods with their single-tub flip top-basin washing machine cover. Nowadays, it is being patronized by many Filipinos.
Sharp celebrates its 40th anniversary this year together with hitting the 10th million mark in its washing machine production.
It released a special edition Ruby Red washing machine model: ES-40TH85T(RD) (8.5 kg.). This model has a ruby red-colored lid cover. It gives the product a unique from its current washing machine colors available in the market. Moreover, this model also has 2 years extended warranty service.
You can win Sharp appliances with its newly announced 'Buy, Register, & Win' promo. All customers who will purchase the Ruby Red washing machine will be part of the monthly raffle draw. Participants will get a chance to win prizes. Each customer should register proof of purchase on the warranty section on the Sharp website. Once successfully registered, it will automatically qualify the customer in the raffle draw. Moreover, winners will be contacted and announced on Sharp's Facebook page. The raffle promo will run from March to May 2022.
The brand remains to be one of the top in the market share for washing machines in the Philippines. It was also awarded as the 'Most Trusted Brand' of washing machines by Reader's Digest for 11 consecutive years.
Truly, Sharp will continue its commitment to delivering comfort, convenience, and innovation for the years to come. It is looking forward to achieving another milestone in the future together with its valued customers.
"We promise to continue our goal of becoming every household's reliable partner in their daily lives creating a satisfied and unforgettable journey to every customer all over the country", concluded Mr. Kito.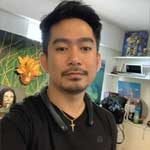 Josh Austria
Aside from being a businessman, Josh Austria has been working in PR and media industry for more more than a decade. From his years of experience as the Marketing and Advertising Head of Village Pipol Magazine, he has built strong relationships with creative people, brands, and organizations.