Finding your dream home is difficult and when you do it's the most amazing feeling. Sometimes, it's so easy to get carried away when browsing houses on the internet.
Rica Peralejo-Bonifacio shares a few tips when searching for a new home
Seeing amazing properties and imagining yourself in a new gorgeous home can tempt you to increase your budget. What's even worse? Falling in love with a home you won't be able to afford in the long run. So, it may be a wise move to be diligent in your homework when buying or renting real estate. Let's take a cue from Rica Peralejo.
After marrying her husband Joseph Bonifacio eleven years ago, Rica decided to focus on her family and lie low from the entertainment industry. She now regularly upload vlogs on YouTube. In one of her videos, she announced that they're moving to a new house in Santa Rosa City, Laguna.
The 40-year old mom gave a quick tour of the place that they're going to rent in the coming weeks. In the video, Rica tells three major things they took into consideration before making this huge family decision:
Determining your budget
The vlogger mom said that budget is the topmost factor that affects your choice in buying or renting a house. She explained further,
"Ano ba iyong budget mo? Kasi reality mo na kaagad iyon na… And that was part of our decision-making, kami ng asawa ko. Ang dami naming tinignan, 20 plus houses and some of them, nasa mataas na renta, iyong iba mababa. Mataas na presyo kung bibili, iyong iba naman mababa. And after everything that we've seen, we had to go back to our reality na, 'Ano lang ba tayo? Ano lang ba iyong afford natin?'"
Take into account your values
Rica Peralejo-Bonifacio also discussed the importance of knowing your values. It includes your aesthetic, design, and philosophical values, or non-negotiables in life. Rica shared that they considered too many things for the aesthetic values. But, they discovered from the experience that they both like an open space concept.
"May mga bahay kaming nakita na sobra niyang laki, parang pag binigay sa iyo iyong measurement ng bahay, 'Oh, that's a good size for us.' But then when you go in, it's not an open space concept so there's a lot of harang-harang. Naggawa sila ng partition, ng walk, and it makes it feel cramped."
She also mentioned that you must focus on design value when building a home. You should know if you like having several a well-lit abode or a dark one. Rica and her husband love to entertain guests so this is a factor for them.
"We love to host. We just like having people in our home because I feel like this is the best way that you can share life with others."
Because of that, Rica thinks that they need a bigger space so they can invite people over for meals. She said that's a value in their family. As a mom of two boys, she also looks at the kind of community to live in. One of the reasons they are moving into a new place is their friends who live nearby.
Know if it's for temporary or for good
The last essential thing one must consider is the "season of life," according to Rica Peralejo-Bonifacio. They chose to rent a house because they haven't decided yet if they want to permanently stay in Santa Rosa, Laguna.
"And for us, it's a season that will end. I don't think that this house where we're moving in to is our last house. I think we are not going to determine that until a few years in to it na, 'Okay, gusto na nga talaga namin dito.' Or mas may iba pa pala kaming place na gusto sa Laguna. Or malipat na naman iyong asawa ko. We'll never know."
The fact made Rica and her husband's decision process easier and the move faster. They can overlook some things because this is not forever for them.
Hope this can serve as a guide during your house hunting!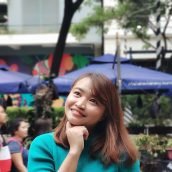 Queenie Lastra
Queenie Lasta got her bachelor's degree in Communications Research from UP Diliman. In her free time, she likes to read thriller novels, psychology books, and mangas. She believes in the importance of grit, hard work, and passion to become a great writer in the future.