Photo by KJ Rosales, The Philippine STAR
The year 2020 is ending fastly, and most of us cannot help but be optimistic about it. Perhaps the brand new year will bring new opportunities and growth that we've missed out on because of the pandemic. And there's a great chance that researchers will discover the vaccine against COVID-19 pretty soon.
To achieve herd immunity among Filipinos
The chief implementer of the National Task Force against COVID-19 said in an interview that the government aims to vaccinate 75 to 80 of the total population. This is to achieve herd immunity against the coronavirus disease. Sec. Carlito Galvez Jr explained, "Our target is really at least 75 to 80 percent to see herd immunity and [so that] we can all contain the virus and prevent our people from getting the disease and that is our target. And our target is at least 25 to 30 million [Filipinos] a year."
So what is herd immunity? According to Mayo Clinic, Herd immunity occurs when a large portion of a community (the herd) becomes immune to a disease. Thus, it makes the spread of disease from person to person unlikely. Because of that, the whole community becomes protected — not just those who are immune.
A vaccine for the virus that causes COVID-19 would be an ideal approach to achieving herd immunity. Vaccines create immunity without causing illness or resulting in complications. Herd immunity makes it possible to protect the population from disease, including those who can't be vaccinated. Using the concept of herd immunity, vaccines have successfully controlled deadly contagious diseases. Examples are smallpox, polio, diphtheria, rubella, and many others
A geographical and sectoral approach
Galvez added that President Duterte wants to vaccinate all of the Filipino citizens. But Duterte is aware that vaccination is a voluntary act and only 66 percent of the population is ready for it.
Moreover, Galven noted that there's an "encouraging result" from the government's negotiation with vaccine manufacturers to achieve the target. He also said that the immunization against COVID-19 is on a geographical and sectoral approach. He further explained, "By geographical, we have to vaccinate people in those areas that are affected by the virus especially in NCR (National Capital Region), Davao, Cagayan De Oro, and Cebu. These are areas, economic centers that have a great impact in terms of containing the virus and at the same time making a full recovery of our economy."
The priority list includes healthcare workers, poor and vulnerable sectors, essential workers, and frontliners including police officers and soldiers.
Any thoughts on this issue?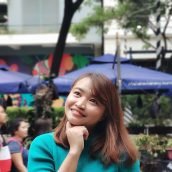 Queenie Lastra
Queenie Lasta got her bachelor's degree in Communications Research from UP Diliman. In her free time, she likes to read thriller novels, psychology books, and mangas. She believes in the importance of grit, hard work, and passion to become a great writer in the future.