If you want to get a tattoo with the hand-poke method but Buscalan is too far away from you… Bulacan may have the answer. Roel Garcia, a tattoo artist from San Jose Del Monte Bulacan, garnered popularity on social media for his distinct style. Rather than a tattoo gun, Roel uses the hand poking method.
Hand-poking is similar to Apo Whang-Od and other Kalinga women's method of tattooing called "Batok." However, in Roel's style, pigment is carefully applied to the skin, forming a picture from a series of single dots. Roel uses modern needles and ink but using only his hands without the machine.
Roel told ANC,
"Ang amin po ay hand-poke, kung saan moderno na ang karayom at ink na ginagamit, ngunit ang paraan ay kamay lamang at walang makina."
Roel Garcia learns hand poking on YouTube
He learned hand poking four years ago. He watched videos on the traditional way of hand tattooing in Japan called, Tebori.
 "Walang nagturo po sa akin, at sariling pagtuklas lamang po ito, dulot na din ng ilang videos na aking nakikita patungkol sa hand poke tattoo."
Tattoos inspired from Baybayin
Moreover, the baybayin appears in several of Roel's tattoo designs. He has a baybayin message inscribed on his arm that reads, "Paalala Pagmamahal." It reminds him that every tattoo session should be filled with love.
Roel's tattoos take at least an hour to finish, but still depending on the design chosen. For the most difficult tattoo he has done, it took seven hours to finish. 
The price of a tattoo session starts at Php 800. You can find Baybayin hand-poke Tattoo Shop at #32 Liana Road, San Jose del Monte, Bulacan.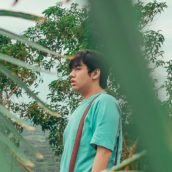 Ivan Royce Pedron
Ivan Royce is a journalism student from Cavite State University. Aside from being a writer, he is also a video content creator, photographer, and graphic designer. He likes to drink…. Coffee, tea, or maybe alcohol. Ask him for recommendations!