Falling in love during this pandemic
This is the story of how I found love despite the hardships and impossibilities of this pandemic, and how I think about romance in this day and age.
PS: If you don't believe in "Love is love,"
Or that every love is valid (LGBTQIA+), then don't bother reading the rest of the article. Thank you.
It's no question that love has charmed a lot of people in the world for the past centuries. Love has been a topic of every work of literature and other forms of entertainment. Books, films, poems, tv series, etc., you name it. It is its own thing. The world's greatest thinkers and random civilians have given their take on love. It has always been the hottest topic in all forms.
People have been crazy and even literally died for it; some refuse to believe it; some still don't understand how it works. It has been debated, but until now, no definite answer has been formulated. It might remain one of the greatest mysteries of the world.
Because of that, we're not gonna dive into it. Instead, we'll be looking at a more specific picture—at how I found love in this pandemic.
Started with dating apps then got tired of it
Even before all of us have been quarantined, people have already used dating apps. They are apps that let you create your profile and link you with other people with the same interests and other things they do that involve an algorithm. It can be because you both like reading, or because you are near to each other.
Examples of this are Tinder, Bumble, Tantan, Facebook Dating, Grindr just to name a few. I have a fair share of experience in these apps. Actually, I have only used them last year—2020—during the start of the pandemic. I already have knowledge of them because of my friends, but I only downloaded them at that time. At the time, I broke off an almost two-year relationship.
Because of the heartbreak, I decided to explore myself through these apps. Despite the pain of the breakup, I felt kinda excited because that became the first time after two years that I remained single again. At the moment, I don't know what I was looking for—a hookup, a fling, or a real relationship. All I know was that I needed a distraction.
The reality is, at the time, not only did I break off a long-time relationship, but I was also struggling with grad school. It was the peak of my existential crisis. I also lost the only Filipino YouTuber I watched—Lloyd Cafe Cadena. The fact that I went through all of that, I just couldn't imagine. It was maybe the darkest moment of my life. That's why I really needed the attention.
I'm not going into detail about my past relationship, but all I can say is that we fell apart. It doesn't matter whose fault it is or what has transpired behind the scenes. What happened was we grew apart from each other because of the pandemic. We lost touch. I'm pretty sure we felt that it was happening. We were just too afraid to admit it. It was until we broke up.
Of course, after that, I was devastated. Two years was still a long time. But honestly, I was not surprised. I saw it from a mile away. Actually, even before the pandemic, since he was busy with work and I was busy with grad school, we lost time for each other, and then the pandemic happened. That's when it all started to crumble. In those months that we were apart, we tried to make it work, but it didn't.
I actually feel like, during those moments, I was already moving on. That's why when we broke up, it hurt, but not as bad that I thought it would be. Even before the breakup, I was already in the process of accepting it. But despite everything, I still wish him the best and I still respect him. I'm pretty sure that it's the same with him to me.
When it came to using the dating apps because of how sad I was, I swiped to my heart's content. I spoke to many people, I ghosted a handful, I was ghosted by several as well, then everything was just a blur. It's funny how I was so toxic at that time. Desperate for attention—is what I would call myself—to the point that I was practically begging for their time. And, I was very vulnerable.
I remember posting this as a story because the person I am talking to wasn't replying to me:
Not long enough after that, I started to realize, what the fuck am I doing? I noticed how I already lost respect for myself. I desperately seek people's attention and I started to not take care of myself.
Dating apps were just a waste of time, I thought. Here is what I posted on Instagram, during that time, in text:
What I realized about dating apps is that they are bullshit. People are either narcissistic or easily bored. When the conversation starts to be dry or the person you're talking to decides that they want to or have found someone better, next thing you know is that I have already unmatched or ghosted you. The art and magic of meeting or getting to know someone is nonexistent. It became easy to judge or let go of a person without knowing them first. Today's age of dating is sad. I guess romance is deteriorating. It's becoming superficial.
When I did this, the people who I also ghosted replied with things like, "You have the nerve to post this yet you also do it." Well, I never said that I was an exception. I am not denying that. I really thought that every one of us has looked at love that way. Especially people my age.
That's when I stopped using dating apps more often. Compared to the constant swiping left and right from time to time, I started to check them once a day. After a while, I completely stopped.
What's funny is, you know that thing they say about not looking for the person and let them come to you? Well, that's what kinda what happened to me. I was scrolling through Instagram. Not because I was searching for someone, but because I was just casually doing my thing. After a few scrolls, I stopped and noticed a cute guy. Of course, I see good-looking guys frequently on Instagram, but this one's different. He looks familiar, I thought.
That's when I decided to check my matches on Tinder. He was one of the guys I matched with. Just when I stopped these silly waste-of-time dating apps, I actually found someone from there. And get this, on Instagram!
Of course, at the moment, I thought, maybe he was just like the others. But I had to leave a like. I won't do any move—just a like. After that, I noticed that he liked my pictures too. I know that when he reads this, he won't admit it, but he liked my series of photos. That's because when I post on Instagram, I do it in threes. And he liked all of them. That's when I thought that maybe he's into me too.
After that, he was on my radar. I didn't make a move, but I was anticipating his likes every now and then. I also left some when he posts. That's when I got a good feeling that maybe we have a chance.
Because of that, one time, I reacted to his IG story. He replied with three hearts. Of course, it was a plus point to the fact that maybe we'll work out. I just liked his reply at that time, to seem chill.
Our next interaction was when he was the one to reply to my story because of my outfit. He complimented my sweatshirt. Do you know what's ironic? It was my ex's Christmas present, which I immediately disclosed to him. He said that my ex had taste. After that conversation, we constantly started to reply to each other's stories.
The actual turning point was when I shared the donation drive of Village Pipol. Yes, this magazine that this article was published on. According to him now, that's when he noticed me completely.
Without knowing that, the next time he posted, I sent him that exact post via direct message and complimented him. He replied with "thanks" and that I was cute too. Of course, because of that, It was quite clear that we were somehow interested in each other. Our conversations started to blossom.
It was not a while until we opened up to each other. We shared how we feel pressured about the expectations of people for us. Since he was almost three years older than me, he parted some knowledge and advice, which I all took into heart. I was very grateful because as I said, I just came from the darkest moment of my life. You know what, at that moment, yes, it started as a crush, but what came next came organically. It was because we understood each other. We were a perfect fit.
Instagram dm's turned into phone calls. In those calls, we still talked about life and our plans for our own individual future. We talked about our likes, dislikes, etc. We were slowly trying to unveil each other's layer. As we go along, we didn't only look at the surface, but what's inside as well. We tackled our deepest and darkest fears; we weren't afraid to show each other our dark sides. It was an instant perfect connection.
Because of that, we decided to meet. We went on our first date:
Then the next:
At that point, I was really connecting with him. It was like I found my soulmate. I don't have to explain myself to him because he already gets me. I already found someone who speaks my language, so I don't have to spend a lifetime translating my soul.
I didn't waste any time. Letting this slip will not be the right move, I thought. That's why when my siblings and I were about to come back to our hometown for the holidays, I asked him if he wanted to come. At first, he was hesitant, but soon enough, he gave in. It was the first time I was going to introduce someone to my family, let alone bring him to my hometown with their knowledge.
I asked my parents about this because I wanted their permission. Surprisingly, they said yes. So, it happened. He went home with me and my siblings.
Well, what do you know, it was the happiest moment of my life. Yes, I experienced the darkest just recently, but during that, it was the exact opposite. I was on cloud nine. My hometown was amazing enough, but when we spent our time there, it was magical. He definitely made it more special. My sisters became hers as well. They loved him.
They, my cousins, and I became a squad. We were tight-knit. We got along with each other very well.
It was definitely a dream come true. I felt home, yes. But he is my home as well. After all that I've been through this pandemic, I can say that l am still very lucky. Being able to find someone perfect; someone who understands me; someone who cares for me; someone who is never tired to accept me for who I am; someone who feels like home—is one of the best feelings in the world.
Do you know how I found love despite the hardships and impossibilities of this pandemic? Well, I am not sure. That's the hard truth. But maybe, since we all wanted an answer to things that have no certainty, I will give you one.
I let it all happen naturally. Maybe, it is true that the right person will come when you least expect it; maybe you will find it when you stop swiping left and right through dating apps; but the reality is, it is not impossible through those means as well.
All I know is, if the right person is in front of you, everything will just fall into place. It doesn't mean that it will all be easy—no, it won't. But every puzzle piece will keep on showing until you put them all together and find the perfect picture.
The answer is to go with the flow. Let the waves take you to the ocean where you belong. Whether it is when you least expect it, or when you try and search for it yourself. When a person comes along and you feel like he, she, or they are the one, let it happen organically. Try and get to know each other, assess if you're compatible. Never beg, never force yourself to him, never disrespect yourself. If it happens, it happens. If not, then maybe the next time, you'll get it.
And to you, my love, I am very much thankful for being there for me. Thank you so much, not for completing me, but for making me realize that I am complete myself—that I already am whole. You are my home in this world full of stagnant and confusing structures. I love you beyond the stars. Happy Birthday.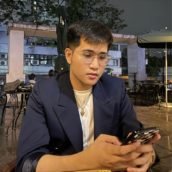 Raphael Garcia
Raphael is a person born between the generations of Millenial and Gen Z. He was produced by Cavite State University (Main Campus) with a bachelor's degree in Political Science. The lad has a fresh take on things, but can still stay true to his roots. He writes anything in Pop Culture as long as it suits his taste (if it doesn't, it's for work). He loves to wander around the cosmos and comes back with a story to publish.