Get to know Village Pipol Magazine's newest Senior Editor, Rapha Garcia
Rapha Garcia of the Village Pipol Magazine is now its Senior Editor and it's been one hell of a journey! Get to know him more in this article.
Pursuing other fields
Rapha has always dreamed of being a writer but he didn't really intend on pursuing it. In the Philippines where a passion for the arts is looked down upon, he focused on other things.
Ever since high school he has been eyeing the title of "Atty." That's why he took up Bachelor of Arts in Political Science for his pre-law and graduated after four years in 2019.
In that same year, he also applied for a scholarship in the University of Makati, School of Law, to be a full-time law student. Out of the hundreds of applicants, he eventually got in, along with three of his peers.
His fuel is to bring change to the country's justice system and provide service to those who cannot speak for themselves. To this day, he still fights for things he cares about.
One of his fatal flaws
One of the flaws that people actually say he has is being too passionate when it comes to his opinions and ideas.
However, he still had the burning desire for change and the usual response he gives to people when they say that he is too driven by his emotions to initiate change is this,
"If Rizal, Bonifacio, Mabini, and other Philippine heroes didn't have the same guts and passion, we would still be held captive in our own land up to this day."
Rapha still has that same fire. However, things didn't quite work out in law school. In his second year, at the start of the pandemic, everything was just too much for him.
He broke off an almost two-year relationship, the struggles brought by COVID-19, his workload as a law student, and other personal reasons. Yes, he has always been passionate, but that also became his downfall.
His emotions got the best of him. The lad had to walk away from his dream of becoming a lawyer until he becomes ready once again. He needs to save himself before losing him completely.
Someday, when he's mentally and emotionally ready, he might come back. Maybe one day, maybe not ever.
One thing's for sure, he has a lot of other dreams to look at. At the moment, he's open to all possibilities when it comes to exploring his identity.
Redirecting himself to other aspirations
Since his plan for years of becoming a lawyer has been cut off, he decided to take a risk and pursue his dream involving the arts. Being a writer, trying for acting jobs, and other things he knows he can excel at.
In February of 2021, Rapha started writing for the Village Pipol Magazine. In a span of 10 months, he has already written several articles—both for the magazine, in partnership with brands, and other clients outside of VPM. Topics range from celebrity news, fashion, pop culture, lifestyle, insurance, non-fungible tokens, and many more.
Rapha and the people who believed in him
He has learned a lot, being trained by former Editor-In-Chiefs Jim Reynold Zamora and Angela Grace Baltan.
Angela has a lot to say about Rapha's progress as a writer and achieving this position.
"Every conversation I have with Rapha is an educational experience. You always learn something new. So, him being Village Pipol's new Senior Editor is one of the best decisions ever."
She continued by saying how the lad is definitely skilled in his work, even sharing some of her experiences as his EIC.
"Whenever I read his articles, I would be engrossed and forget that I was even supposed to be editing them. To no one's surprise, of course, his articles need little to no editing. And, with this new position, he definitely is the perfect person for the job."
The former editor-in-chief ended her statement by giving him a message,
"So, to Rapha… May you have an amazing time as a Senior Editor! You deserve this! I am so proud of you!"
On the other hand, Jim has this short but meaningful thing to say about Rapha as his mentor and partner for almost one year. The person who believed in him before anyone else.
"[I] am just so glad that Village Pipol Magazine continues to train young and talented people. I have seen Rapha's dedication and I am confident in his skills and leadership. I look forward to more fruitful years of VP with their newest Senior Editor."
Josh Austria, the magazine's PR & Advertising Manager, thinks Rapha is ready to take on the role of Senior Editor. He knows that despite having experience of less than a year, he's talented and dedicated enough to assume the position.
"I believe Rapha has the potential to be a good leader and can stand the pressure of the industry. I hope he continues to be a great writer and a listener."
The 23-year-old writer still has a lot to learn and will face a lot of challenges in his career. With his skills and determination, let's all wish Village Pipol Magazine's newest Senior Editor the best of luck.
"I have experienced a lot of hurdles in this one hell of a roller coaster ride and almost gave up multiple times. Actually, if you would be able to tell my past self from 5 years ago that this would happen, he would have a hard time believing it.
"But no matter how mundane this experience has been, I know the both of us would've been very grateful and content with how everything turned out. Cheers to more years to come! I will continue to use my voice, this platform, to spread more good and to educate a lot of people."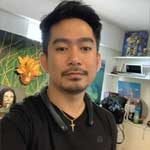 Josh Austria
Aside from being a businessman, Josh Austria has been working in PR and media industry for more more than a decade. From his years of experience as the Marketing and Advertising Head of Village Pipol Magazine, he has built strong relationships with creative people, brands, and organizations.