Scrawny cats sleeping on rubbish piles and mange-ridden dogs limping along the street are common sights in the Philippines.
Animal lives still matter
Millions of stray cats and dogs roamed the nation in 2019, as per the Philippines Animal Welfare Society. The heartbreaking thing is, city pounds euthanized thousands of the animals, while others die of disease, hunger, or wounds resulting from fighting.
In light of this issue, Kapuso actress Carla Abellana is requesting people to adopt captured and abandoned stray dogs that are about to go through euthanasia. As an animal welfare advocate, she posted her appeal on Instagram yesterday, October 14.
Furthermore, Carla also attached photos of a mother dog with her little puppies. Her caption reads,
"There are thousands of abandoned and captured strays awaiting euthanasia in city pounds all over the Philippines. Their eyes show exactly how they feel. Please adopt? Save them from getting killed days after they're taken to the pound?"
The cruel fate of undergoing euthanasia of homeless animals
In addition to this, the actress included a message from Bohol Animal Rescue & Kindness, a non-government organization that promotes animal welfare. It had received lots of messages and comments from those who want to adopt.
Moreover, they visited the City Pound and shared some food with the impounded dogs. The group described the experience,
"Today we met mama dog and her litter. Even though she was outwardly calm, we can feel her sadness and anxiety. The look of helplessness and the silent cry for help. They were surrendered by their owner to the city pound. They await adoption or they will be euthanized by the local government."
The Bohol Animal Rescue & Kindness pleaded to people interested to adopt the homeless animals and open their homes for them.
Lastly, they said they are willing to help to make the process faster in the Office of the City Veterinarian.
So if you think you can be a responsible pet owner, all you have to do is to reach out to animal welfare organizations near you.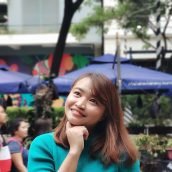 Queenie Lastra
Queenie Lasta got her bachelor's degree in Communications Research from UP Diliman. In her free time, she likes to read thriller novels, psychology books, and mangas. She believes in the importance of grit, hard work, and passion to become a great writer in the future.