Ten years ago, BlackBerry dominated the mobile phone market here in the Philippines. This iconic phone gave you convenient access to your emails and BBM – BlackBerry's Instant Messenger service. Sad to say, it couldn't adapt to the innovations that it slowly faded in the background. After that, the company directed its attention to enterprise solutions as it partnered with TCL last 2016.
A new partner can probably mean a new device
Blackberry may be splitting ways with TCL at the end of this month. However,  a new company has taken an interest to collaborate with it. OnwardMobility has just announced its team-up with BlackBerry and FIH Mobile. Together, they plan to develop new phones bearing the BB-brand for next year.
OnwardMobility is currently based in the US and has been working on security-focused mobile software since its founding in 2008. Its present CEO Peter Franklin has previously worked at Microsoft (Azure) and Zynga (Farmville). The rest of the executive team has wide experience in the smartphone world and major tech companies too.
Allegedly, the upcoming devices are going to feature a hardware keyboard and 5G connectivity. Like before, security will be at the core of the design. According to Executive Chairman and CEO of Blackberry John Chen, "We are excited that customers will experience the enterprise and government level security and mobile productivity the new BlackBerry 5G smartphone will offer."
Meanwhile, President and Principal Analyst of J. Gold Associates Jack Gold explained, "With 5G quickly coming to market, and the acceleration it will cause in upgrading mobile devices and deploying productivity-enhancing apps, deploying proven and highly secure products like the BlackBerry 5G devices in enterprises, government, and regulated industries like finance or legal, are mission-critical."
This means that the brand is not targeting the majority of consumers but only focuses on governments and companies working with valuable and sensitive data. Blackberry will release the phones with QWERTY keyboard and 5G in North America and Europe regions. Since the BlackBerry OS is no longer active, the phones will have an Android system.
It seems that it's not yet game over for BlackBerry. Do you guys agree?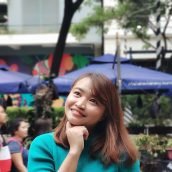 Queenie Lastra
Queenie Lasta got her bachelor's degree in Communications Research from UP Diliman. In her free time, she likes to read thriller novels, psychology books, and mangas. She believes in the importance of grit, hard work, and passion to become a great writer in the future.