Baking is done out of love — and OVN wants to share it to the world
Passion is a strong word as it gives you the power to innovate and to serve. I always believe that passion is a great boon to happiness  — whether for creative writing, fashion, and designing, music, or cooking. In living our lives, especially in a society where everyone is being defined almost entirely by their works and contributions, our strong enthusiasm and commitment to our craft are the simplest yet essential requisites to succeed.
I have been given a chance to talk to a woman who shared how pursuing her passion helped her feel fulfilled in life. We want to send a message that the moment you start to pursue your passion, nothing is impossible. People tend to hurry things and often forget to live their life with purpose and fulfillment — frustrating but true.
Passion for baking, passion for love
Nichole Marie Manalo – Ng, a former beauty queen, a wife, and a mother, has always had a passion for baking. She always believes that her passion gives her uncountable reasons to keep learning and to work harder towards mastery — hence she enrolled in a baking class to further improve her skills. 
In her admission interview, she shared a heartwarming reason behind her goal  — to be a loving wife and a caring mom who prepares good food for her family. 
"I want to be the wife or the mom that bakes good food that makes my family want to go home and be bonded by the food or the dessert that I make; and that a good meal is always perfect when you end it with a good dessert….. And then I got accepted." 
The birth of OVN
With her strong dedication to learning and her firm commitment to everything she does, Nichole always tries to go beyond her limits. She started baking for her family and friends but she always feels the drive to spread the love she put into her pastries especially in these difficult times, thus giving birth to her dessert business, OVN.
"After learning how to bake, I kept on rebaking the stuff that I have learned. But I knew in myself that I wanted to create my own recipe. 

"I started it with the cake that I love the most — cheesecakes. After having the chance to have baked for my family and friends, I just had that strong feeling that I wanted others to try my baked products, hoping that as soon as they get to try it, they would know and feel how much love was put into creating it — because we all need to share and feel that kind of love,  especially in times like this."

Perfect gifts for our loved ones
OVN is committed to its branding as a simple yet sophisticated dessert shop that offers products that are perfect as a gift to our loved ones.
"My branding is simple yet sophisticated. We made sure that it is ready to be packaged as a gift. Since, we Filipinos, have that trait that whenever we have discovered something good, we want to share it with the people we love. That we now jokingly call – "AYUDA".
But why OVN?
"It came from the word 'oven' and it is pronounced just like so. Simply because, when I was a kid, I have always wanted to learn how to bake but I didn't have the equipment to do so… hence the oven. So naming my brand after the word oven is a reminder for me that as long as I have deep love and passion for something, like learning how to bake – it's always possible.
OVN already has 6 flavors of cheesecakes — the classic NY cheesecake, the fruity Driscoll, the zesty Calamansi cheesecake, kids' fave Oreo, dewy salted caramel, and all-time fave chocolate. Among these six flavors, Calamansi cheesecake is the bestseller as it has a uniquely local flavor that every Filipino truly loves.
"I know what I wanted to achieve, a cheesecake that is smooth, rich, will melt in your mouth, not too sweet, and is slightly tart. Because I want people to think, that desserts are not always supposed to be sweet."

The effect of a pandemic
Just like any other business, OVN had a hard time at this time of the pandemic. With the strict quarantine protocols imposed by the government, Nichole left with no choice but to be resourceful and creative with her packaging. Initially, she had to print the label on a bond paper 
"Struggles that came along because of the Pandemic? The packaging that I have envisioned was put into on hold at the start because of the skeletal workforce that almost every company is doing, so the waiting time was too long. So at the start? I just printed everything on a bond paper and taped it on my tin cans. But slowly but surely, my vision came into reality." 
Never stop pursuing your passion
As a budding businesswoman, whose passion and commitment are her main driving force, Nichole reminds young entrepreneurs to never stop dreaming despite failures and self-doubts.
"Don't stop dreaming. Pursue what you love doing, because it will lead you to where you want to be, and despite those failed attempts/recipes — if you really love it, don't stop recreating. Have that goal of wanting others to feel that you really love what you are doing."

Our verdict on every flavor sinfully-luxurious OVN cheesecakes
OVN cheesecakes come into an almost palm-sized and durable thin can. Well, it is definitely a bit larger than my palm but you can grip it in just one hand. This size is great for a dessert since you'll manage to control your portions. I thought the cheesecake is quite small at first but this is good for sharing.
I must say that I am fond of its minimalist packaging that is a combination of rose gold. The tin can is too pretty that I might even re-use it after consuming the cheesecakes. I love that you can readily give it as a gift to your friend, family, or significant other.
As for the taste, I was able to try them all. Here's my opinion on each flavor:
Original Cheesecake
As its name suggests, this one is a no-frill cheesecake, pure and simple. Although it looks bland, don't let its physical appearance fool you. It's the right kind of creamy, no "umay" in every spoonful. Needless to say, you cannot go wrong with this classic version.
Score: 9/10
Chocolate Cheesecake
This can be the dream cheesecake for chocolate lovers out there. The sweetness and the milkiness of the cheesecake on the bottom part are complemented with the chocolate ganache and dark cocoa powder on top. For those who prefer dark chocolates, this is perfect for you! This flavor somehow reminds me of those dark cocoa milk tea so if you're into that, this will hit the right spot for you!
Score: 8.5/10
Salted Caramel Cheesecake
If you like your cheesecake to be really sweet and indulgent, then you must try this flavor. Why? It has the right balance and playfulness of caramel in your mouth that combines with the smooth and rich cheesecake. The bit of saltiness even highlights the sweetness of the other ingredients. The taste is quite similar to the Leche flan that is made with love. Then put this on top of a delectable cheesecake.
Score: 9/10
Oreo Cheesecake
I think this flavor is quite versatile since adults and kids will definitely love this. The tin can was brimming with crumbled Oreos so you'll surely scoop the toppings as you spoon the cheesecake. Many would wonder if combining Oreo cookies and cheesecake is an overkill. In my opinion, they simply taste delicious. I like how the crunchy cookie contrast with the cheesecake's soft texture.
Score 9/10
Strawberry Cheesecake
This version got me singing "Strawberry Fields Forever" because of the luscious strawberry jam that is sipping into the delectable cheesecake. The jam emphasizes the mild sweetness of the cheese with its refreshing tanginess. The best thing about this is the mouthwatering homemade Driscoll's strawberry topping. And this variant so far has the best presentation, quite instagrammable!
Score: 9.5/10
Calamansi Cheesecake
I know, this is not your usual cheesecake flavor but I now understand why this is the bestseller among the six flavors. This resembles a lemon cheesecake but with a much fruitier punch. It's not that eye-catching but the taste will certainly make you come back for more. I also love the fact that it made use of our local ingredient so it really tastes like a fusion of a Pinoy dessert with the NY style cheesecake. Definitely a must-try!
Score: 10/10
If you want to try these amazing OVN cheesecakes for yourself (we won't judge you promise), just send them a DM on their Instagram page or send a message at this number: 09178899778. You can also choose between size 6 and size 8. The smaller size is perfect for those who are first-time buyers or those who just want to try all exciting flavors.
Reward yourself once in a while and savor a cheesecake of your choice.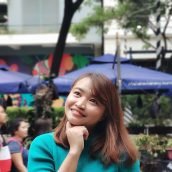 Queenie Lastra
Queenie Lasta got her bachelor's degree in Communications Research from UP Diliman. In her free time, she likes to read thriller novels, psychology books, and mangas. She believes in the importance of grit, hard work, and passion to become a great writer in the future.