PAG-ASA is advising us to stay indoors with the dangerous heat index
High temperatures kill hundreds of people every year. PAG-ASA is reminding the public to stay indoors as much as possible. Heat-related deaths and illnesses are preventable. But according to CDC, more than 700 people die from extreme heat every year in the United States alone. With the soaring heat index and humidity in our tropical country, how one can stay safe from heatstroke?
Be alert on soaring heat index in the Philippines
Earlier this week, weather agency PAG-ASA is reminding the public to stay indoors as much as possible. According to weather forecaster Chris Perez, Metro Manila recorded a maximum temperature of 34.8 degrees Celsius last Sunday. Perez said in an interview, "Hangga't maaari, kapag ganito talagang panahon ng tag-init sa ating bansa, as much as possible stay indoors kung wala namang mahalagang gagawin sa labas ng bahay."
If there's a need to go outside, seek shelter from the sun from time to time. He also advises drinking water regularly to prevent dehydration. Perez noted that people will feel the hottest temperature between 12NN to 3 PM. PAG-ASA explained that the heat index or the "human discomfort index gives the apparent temperature. This is or what humans perceive or feel like the temperature affecting their body.
Measures to stay safe and cool
The Bureau clarified that the heat index could vary depending on where an individual is. Also, it is different from the temperature forecast for the day. Meanwhile, the heat index in Dagupan City went up to an alarming 51 degrees Celsius on Sunday and in the 40s in other areas of the country. With this in mind, everyone must be cautious of heat-related illnesses this hot season.
Centers for Disease Prevention and Control (CDC) shares a to-do list to prevent them:
Stay in an air-conditioned indoor location as much as you can.
 Drink plenty of fluids even if you don't feel thirsty.
Schedule outdoor activities carefully.
Wear loose, lightweight, light-colored clothing and sunscreen.
Pace yourself.
Take cool showers or baths to cool down.
Check on a friend or neighbor and have someone do the same for you.
Never leave children or pets in cars.
Check the local news for health and safety updates.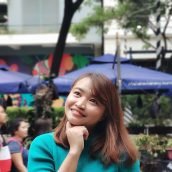 Queenie Lastra
Queenie Lasta got her bachelor's degree in Communications Research from UP Diliman. In her free time, she likes to read thriller novels, psychology books, and mangas. She believes in the importance of grit, hard work, and passion to become a great writer in the future.