They say being a mother is a huge decision. It comes with a lot of responsibilities. They carry lives. Your mom may be your first friend and your first teacher. Our mom also serves as our first line of defense. The way they hugged you matters the most. We all know that no mother is perfect but there are many ways for them to be great ones. While scrolling on my "For You" page on Tiktok, Queennie Lopez caught my attention. Her contents were relatable and accurate. She gives her perspective on what a mother in the year 2050 might be like. Her followers sometimes called her "the mom we will never have."
Queennie details how she came up with the "2050 Mom-tok"
Ok, storytime! I asked Quennie how did she come up with the "2050 Mom-tok." She said that she was taking a break from studying at that time. Queennie was scrolling through TikTok and an idea hit and filmed it. She also said she was not expecting it to blow up. She was born into a strict household, therefore "2050 mom" was the mother she wished for.
If I were to be a mom, I want my kids to experience all the best things in life. However, some of the ideas were also true to life, like going to concerts, buying albums, having a car, and all that. I was lucky to have parents that provide me things I have right now so I made content about it too. Later on, as I gained followers and tractions, I realized that I should also be doing content that should educate the kids, and that was the reason behind my "register to vote" and "get your vaccine" contents.
As of writing, Queennie now has over 830k followers on TikTok. It's excellent that Queennies utilizes her platform to educate children. Her videos promoting getting vaccinated and registering to vote are really timely.
Queennie describes a 2050 mom as a parent who understands and disciplines their child
It's a fact that no mother is perfect. Even if we go through time, they could be great but never perfect. Your 2050 mom is not perfect as well. Queennie also believes that no mother is perfect as a mother is not a one-size-fits-all character.
Basically, 2050 mom is a mom that lets her child go through all the rainbows and butterflies of life, but let her experience all the rain and gloomy days as well. The 2050 mom is a mom that tries to understand her child's feelings, validates them, and empowers her child. Some people say it is a "cool" mom figure, however, being cool is a very vague description as it has different meanings to everyone. I would love to say that 2050 mom is a mom a balance of a mom that understands and disciplines their child in this 21st century time.
In reality, children do not always desire a perfect mother. They are looking for someone who will understand them.
Queennie wants parents to realize that their child should be their priority through her videos
For moms out there, I agree that your children should be your priority. They did not choose to be born. Parents should at least provide not just the basic needs of the children but love, and care. Queennie clarified that 2050 mom is not a "real" character, and not every content of her is applicable.
Being a parent is not just being a provider, being those are two different things. BEING A PROVIDER is just giving your child's needs while being a PARENT is something more crucial and complicated. Being a parent means that you are in the whole process of your child's development which you must invest time, and care into. You must understand them.
Queennie's contents also draw attention to raise awareness among teens that becoming a parent is not a joke and therefore should not be romanticized. I asked Queennie what is her personal favorite 2050 Mom-tok video. She told me that her favorite is the 2050 mom who empowered her daughter with the way she expresses herself through clothing.
Instead of telling your kids to "fix" the way they dress. We must instill in people's minds that there is nothing wrong about dressing the way you want to, what is wrong is the way other people objectify women or even men. 
@queennielopezSOBRANG TAGAL KONG DI GINAWA TO AT PINAGISIPAN BCS PREGNANCY IS NOT A JOKE AND SHOULD NOT BE USED AS A FUNNY TOPIC BUT HERE IS MY 2050 MOM TAKE!! 🤍🤍
You might not have wonderful parents right now or they were not your ideal parents. But keep in mind that the day will come, you will have your own family. Make an effort to be the greatest parent you can be.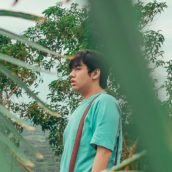 Ivan Royce Pedron
Ivan Royce is a journalism student from Cavite State University. Aside from being a writer, he is also a video content creator, photographer, and graphic designer. He likes to drink…. Coffee, tea, or maybe alcohol. Ask him for recommendations!