ICYMI, BLACKPINK is Globe Telecom's newest ambassadors
ICYMI, Globe Telecom officially announced that the Korean girl group BLACKPINK is their latest endorsers. We can totally hear BLINKs screaming with excitement!
Providing world-class entertainment from the top girl group
Globe Telecom on Tuesday said that it is bringing the four-member K-pop group as the face of the brand. This in line with its mission to 'bring world-class connectivity to its customers'.
CEO Ernest Cu said in a media event, "This year has brought unprecedented challenges for everyone, locally and globally. Despite this, we strive to provide customers better everyday experiences that they will enjoy."
"Having BLACKPINK join the Globe family is proof that we won't stop bringing the world into our customers' homes. BLACKPINK being one of the world's biggest groups has a huge following in the country. We want to bring our customers nothing less than the best in entertainment," he added.
Today, Globe is one of the biggest telecommunications company in the Philippines. As for BLACKPINK, they are one of the biggest Kpop sensations worldwide. The telco company said that they are planning to bring more surprises featuring the said girl group.
With its four members, BLACKPINK started in the show business four years ago. As they released catchy songs, they became one of the Kpop musical groups with a strong fan base in real life and social media. Moreover, their music videos were able to break records repeatedly.
The group recently released their first full album, The Album. After that,  Netflix made a documentary that follows them from their trainee days to their Coachella performance, BLACKPINK: Light Up The Sky.
It really shows how big is the influence of Kpop in our culture. We might be seeing more brands getting Korean idols as endorsers. Do you think this is a good thing or not?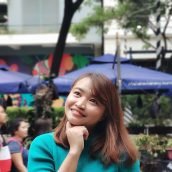 Queenie Lastra
Queenie Lasta got her bachelor's degree in Communications Research from UP Diliman. In her free time, she likes to read thriller novels, psychology books, and mangas. She believes in the importance of grit, hard work, and passion to become a great writer in the future.