Cebuano alt-pop band Sepia Times consists of Luigi Balazo and Elisha "Icy" Ang. They set to release their long-awaited album The Art of Human this year in two parts.
Cebu's Sepia Times to release 2-part album The Art Of Human
The Art Of Human, the title of the album, draws inspiration from the concept of an essay or a compilation of textbook ideologies on the existence and the human condition.
"Though we all go through different things in life and perceive reality and existence in different ways. We can resonate and relate with each other through tiny things in life like words, thoughts, and relationships. In this case, people can find a home in a song and know they aren't the only person feeling the dread, indifference, or content in simply being."
From heavy electronic aggression to more laid back and simple to acoustic intimacy, Sepia Times' upcoming album presents itself in a variety of different genres. But, they held together with a certain sonic signature as well as conceptual solidarity in its lyrics. The musical blend has a description of colorful melancholy. Balazo (on production) and Ang (vocals), both being individual songwriters, have crafted personal study into the mind and soul. Albeit, through a relatable transcript of sounds and words.
The album is confirmed to have 13 tracks being split into 2 releases.
Part 1 consists of 8 tracks with their highlighted track Window Pain. The song is a dark, dismal, and deeply personal track that Icy wrote. She wrote it during a vulnerable night in a high hospital room, after having suicidal thoughts. Its main theme points to resist the urge to give in to the idealization and romanticization of suicide. The artwork was headed by none other than Nikko Tan who has been closely operating with the band on their visuals since after the release of the band's debut EP "1238."
Get the feel of their music by streaming their album The Art Of Human Part 1. Now available on Spotify, Apple Music, and YouTube Music. Also, including all digital streaming platforms under Sony Music Philippines. Catch the visual show here.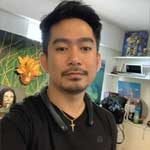 Josh Austria
Aside from being a businessman, Josh Austria has been working in PR and media industry for more more than a decade. From his years of experience as the Marketing and Advertising Head of Village Pipol Magazine, he has built strong relationships with creative people, brands, and organizations.