It has come to that time of the year again― the graduation season. The pace where one celebrates the closing of a life's chapter to welcome what is next. It is also when we feel sad for what has ended but ironically happy to begin something new.
In typical commencement exercises, there is a junction highlight than just receiving your hard-earned diploma. For graduating students, it's when their batch will sing their hearts out for a song that celebrates overcoming years of struggles.
That being said, did you know? That although often conventionalized to only the pop genre, Filipino group SB19 is practically a pillar of the OPM scene! Verily, how several of their songs became a staple representation of remarkable occasions proves it otherwise.
If you can't believe this claim just yet, let us do the honor! Here are the tracks from SB19's discography that are a perfect match to be a graduation theme song:
Go UP
"We gonna go up! Ibibigay ko ang aking puso,

Sa pag-abot ng pangarap, 'di hihinto,

Handa 'kong harapin ang lahat

Kahit pa imposible,

We gonna up."
Go Up is a symbol of redemption for SB19. Right when they were about to give up on their aspirations, they decided to put up a fight one last time. Hence, through this song, they poured all their hearts into singing their own stories. When SB19 went viral, everything finally paid off as it led them to success. The inspiration from its lyrics is what makes Go Up a timeless anthem of striving to reach our dreams.
MAPA
"'Wag mag-alala, ipikit ang 'yong mata

Tahan na, pahinga muna, ako na'ng bahala

Labis pa sa labis ang 'yong nagawa

Ma, Pa, pahinga muna, ako na."

See Also
Countless idol groups each made their bopping hit songs, a track worth dancing to, or something energetic. But indeed, not one ever made a piece like MAPA, at least so far. This highly-acclaimed SB19 composition is a tribute to our parents, the maps that guided us on the right path. Thus, the soulful ballad is very much befitting to be sung during graduation, to appreciate the importance of our Mama and Papa.
SLMT
"Ako'y nagpapasalamat

Sa lahat ng sumabay sa paglalakbay ko

Papatungo sa 'king pangarap

Lagi ko kayong tanaw sa paglipad
A secret not everyone knows, SLMT is a music SB19 dedicated to their beloved fans. In addition, it contains references that only their fandom would understand. However, since the song thanks those special people who partook in our journey, it is a rhythm for everyone. Apart from expressing gratitude, SLMT is also a reminder to look back to where we came from and to remember our humble past no matter what.
Which of these songs by SB19 can you relate with the most?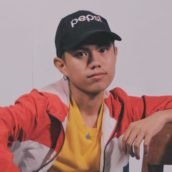 Renzneil Robles
Renzo is an introvert who prefers to do things at his own pace. Unlike most writers, he reads lazily. Watching Korean dramas at night is his constant source of comfort. Although oftentimes commended for being outspoken, he speaks better through writing than with his words.