Timothée Chalamet, Billie Eilish, Amanda Gorman, and Naomi Osaka will be co-chairs of the 2021 Met Gala, Vogue which was announced on Monday.
The Met will host an in-person red carpet celebration called "In America" on Sept. 13. It delayed the event that typically takes place in the first week of May. The theme for this year will be "American Independence."
The 2021 Met Gala sets to celebrate "a newfound sense of freedom: to gather, to travel, and to get utterly dressed to the nines — or better yet, into the double digits." The people that will serve as honorary chairs at the event would include Tom Ford, Adam Mosseri, and Anna Wintour.
Due to the COVID-19 pandemic, last year's fundraising gala had been canceled. There was no red carpet event to accompany the event while the 2020 exhibition took place at the Met last year.
The post featured pictures of New York City's Metropolitan Museum of Art, Eilish, Gorman, Osaka, and Timothee Chalamet.
Chalamet shared an Instagram post on Monday morning announcing his involvement with the gala. He is best known for his roles in Call Me by Your Name (2017) and Little Women (2019) and will next star in Dune (2021).
Singer Billie Eilish, 19, is better known for her casual style, including large T-shirts. Hence, it is refreshing to see her recently appear in British Vogue in tight-fitting lingerie. She told the magazine,
Showing your body and showing your skin, or not, should not take any respect away from you.
Amanda Gorman, 23, became an international sensation after reciting her poem "The Hill We Climb." It was inspired by the Jan. 6 attack on the United States Capitol, at President Joe Biden's inauguration. Gorman, who is African-American, then became the first-ever poet to perform at the Super Bowl, America's most-watched broadcast of the year.
Meanwhile, Osaka quoted Vogue's tweet. She said she is "so excited" for the gala. The Japanese tennis pro followed this tweet up and said, "If I see Rihanna ima pass out."
This year's exhibit will open in two parts. "In America: A Lexicon of Fashion" will open on Sept. 18, 2021. The second part, "In America: An Anthology of Fashion," will open next year on May 5.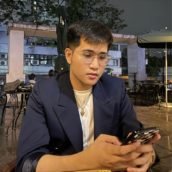 Raphael Garcia
Raphael is a person born between the generations of Millenial and Gen Z. He was produced by Cavite State University (Main Campus) with a bachelor's degree in Political Science. The lad has a fresh take on things, but can still stay true to his roots. He writes anything in Pop Culture as long as it suits his taste (if it doesn't, it's for work). He loves to wander around the cosmos and comes back with a story to publish.