Catriona Gray won the hearts of millions of Filipinos and her supporters worldwide because of her genuine compassion towards others. Aside from that, she made sure that her costume and accessories during the pageant represent our beautiful country. Talk about patriotism!
Being proud of the Pinoy heritage
These are the reasons why Miss Universe 2018 Catriona Gray deserves to be a goodwill ambassador for the National Commission for Culture and the Arts (NCCA). In celebration of Arts Month in the Philippines, the Filipino-Australian beauty queen will promote their various causes related to arts, culture, and heritage.
In a teaser video in "Kultura 101", Catriona revealed her enthusiasm for her new role. She said, "Even before I was chosen to represent the women of the world, I always consider myself, first and foremost, a Filipina! I have always been proud of our culture, our people, and our creative spirit. And I want to learn more! Together, we can be prouder and stronger in a time when we need to be proud Filipinos."
The goal of sharing about our arts and culture
After that, she encouraged online viewers to watch and interact at the "Padayon" forum on NCCA's social media pages. Due to her part in this campaign, she discovered a lot of information, especially in the National Museum of the Philippines. There are several research materials, footage,  and photographs that can be shown there. She added, " Every episode, I will share what I have learned from aspects of our arts and culture."
For the pilot episode, the beauty queen showed the adornment of native inhabitants before the Spanish colonial period. She added, "The jewelry/accessories of our indigenous peoples say much about color and style. Even before we were colonized, the islands were rich sources of gold, as evidenced by unearthed collections displayed at the Ayala Museum that dates back to the 12th century; some 300 years before we were colonized by Spain."
Meanwhile, Catriona had learned a lot about the T'bolis in Lake Sebu of South Cotabato. During her journey in Miss Universe, she wore their traditional outfit complete with accessories. "Wearing a culture of beauty and skill. Also, I've tried the Yakkan make-up, tanyak-tanyak. Speaking of body art, in the tattooing of the Kalingas, you have to deserve a tattoo because of bravery and leadership. The three stars and sun were symbolism for the flag. Gusto ko may watawat na pwede kong isuot and that's how I came up with the design for my ear cuff during the pageant."
We hope that there will be more celebrities in the future that will follow her footsteps in loving our own culture.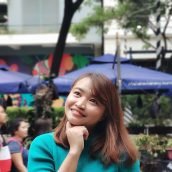 Queenie Lastra
Queenie Lasta got her bachelor's degree in Communications Research from UP Diliman. In her free time, she likes to read thriller novels, psychology books, and mangas. She believes in the importance of grit, hard work, and passion to become a great writer in the future.