'The Childe' starring Kim Seon Ho excites fans with action-packed teaser
Photo from CreaZion Studios and Glimmer Philippines
The highly anticipated teaser of The Childe, starring the superstar Korean actor, Kim Seon Ho, was released tonight at 7 p.m. on May 15, 2023, in the Philippines.
CreaZion Studios and Glimmer Philippines joined forces to bring this action-packed and exhilarating movie to audiences, promising an unforgettable cinematic experience.
The Childe indeed showcases Kim Seon Ho's exceptional acting prowess as he delves into an intense role that captivates viewers from the very first glimpse.
The teaser offers a thrilling sneak peek into the film's narrative, filled with adrenaline-fueled chase sequences and heart-pounding moments that leave audiences on the edge of their seats.
Filipinos would once again take the spotlight as Kim Seon Ho portrays a Korean-Filipino (KOPI) boxer with a Korean father who abandons him and his Filipino mother in this film. Expected to be a hit in the Philippines, the film stars a popular Korean actor and tells a story that is relevant to Filipino audiences.
Of course, CreaZion Studios and Glimmer Philippines are excited to present The Childe to the Filipino audience, promising a cinematic journey like no other.
With a combination of high-octane action and Kim Seon Ho's undeniable charisma, the film is poised to deliver an extraordinary entertainment experience that will keep fans eagerly awaiting its release.
Fans of Kim Seon Ho, known for his remarkable performances in popular dramas such as "Start-Up" and "Home Town Cha Cha Chat," can expect a new side to his talent as he brings a compelling character to life in the movie. Meanwhile, the teaser reveals a glimpse of the actor's versatility as he seamlessly transitions between intense action and magnetic presence, leaving viewers wanting more.
The Childe is set to hit Philippine theaters on July 5, 2023, and promises to be a must-watch for fans of Kim Seon Ho, action enthusiasts, and movie lovers alike. The movie is exclusively released in the Philippines by CreaZion Studios, a production company that aims to create content for global audiences.
The Childe is just one of the many exciting and quality projects CreaZion Studios will offer. This Kim Seon Ho thriller is distributed in the country with Glimmer Philippines.
Watch the trailer here: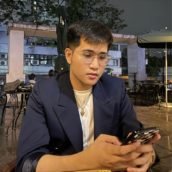 Raphael Garcia
Raphael is a person born between the generations of Millenial and Gen Z. He was produced by Cavite State University (Main Campus) with a bachelor's degree in Political Science. The lad has a fresh take on things, but can still stay true to his roots. He writes anything in Pop Culture as long as it suits his taste (if it doesn't, it's for work). He loves to wander around the cosmos and comes back with a story to publish.