Manila Flag Football takes the Philippines to the world stage
Last Saturday, March 25, 2023 at the Philsports Complex – The Manila Flag Football League held the very first official Philippine national qualifiers for flag football. The tournament opened its gates to teams from all over the country to identify athletes who will be moving up into the selection pool.
The tournament celebrated 3 things: the selection of the country's official Philippine Team, the celebration of women's month, and the Philippines taking on the world stage. The Philippine Flag Football Association (PFFA) earlier announced that the Philippines will be hosting its first official international championship cup this May 27 to 28, 2023 at the Clark Parade Grounds where national teams from across the world will be flying in to go toe-to-toe to claim that championship cup.
The tournament was kicked off with an all-women's exhibition game where the best of MFL's female athletes showed off their athletic prowess. It then proceeded to a 12-hour tournament that followed a coed 6s format where 4 male athletes and 2 female athletes represented each team on the field. After a full day of flag football, 3 teams made it to the podium!
The tournament welcomed a new team on to the podium with Team Panthers led by captain RD Valdez coming in third
Securing the second spot is last season's victors – Team Rhinos led by captain Pereme Alina
And back at the top spot is Team New Era led by captain Zachary Thibodeau
This tournament also concluded with 38 aspiring national athletes moving up to the selection pool, where only 20 athletes will eventually make the official lineup for the Philippine team.
The 38 athletes who made the cut are as follows:
Dondie Tablizo
Jacob Pascua
Joseph Sy
Job Umali
Anj Collanto
Jenn Dave Gravides
Daniel Delgado
Rich Hardin
Nikko Borromeo
Le An Taytay
Keneth Sevilla
Nina Juan
Jin Macapagal
Daryl Paet
Speedy Espiritu
Carlos Aonan
Guinevere Soria
Pereme Alina
Tinoy Borromeo
Miguel Perez
Kane Alferos
Lebon Sandoval
Atomo Tanaka
Joreen Aina
Khalief Stamps
Gico Almendras
Dags Mambuay
Gabby Dario
Quinn Hager
Zachary Thibodeau
Maximo Carlos
Vega Roxas
Chay Canilao
Bea Ignacio
Tessa Jones
Vida Gonzales
Vic Nseyen
Kristoffer Carlos
These athletes will be taking on a flag football intensive under the direction and supervision of MFL's Director of Sports, national athlete, and All-American Athlete awardee – Mr. Steve Near. The Philippine team will be geared up and supported by Anessa Philippines, as they take on the world stage.
The journey towards having an official national team has been a long one, but one that has definitely garnered support from all across the country. Manila Flag Football league (MFL) in partnership with the Philippine Flag Football Association (PFFA), its athletes, coaches, and supporters have waited for this day and it's a huge win for flag football in the Philippines!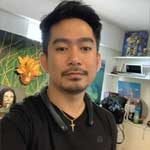 Josh Austria
Aside from being a businessman, Josh Austria has been working in PR and media industry for more more than a decade. From his years of experience as the Marketing and Advertising Head of Village Pipol Magazine, he has built strong relationships with creative people, brands, and organizations.