The long wait is over! My Toxic Lover will officially premiere this coming Saturday night – April 10, 2021, through PEPPs TV YouTube channel. This romantic comedy series is the story of Ethon Kaizer, s young movie superstar who falls in love with an ordinary man. The series will also introduce the reigning Misters of Filipinas Model of the Universe Kevin Salgado as the love interest of Inaki Torres.
My Toxic Lover sets to premier on April 10, this Saturday!
PEPPs partnered up with Sine Asia under the helm of Roy Rebosada. They also had the TPC Events Concept and Design under the direction of Mervin Galang. The companies set to produce another world-class online series. This became the very first directional assignment of PEPPs president Carlo Morris Galang. He also said:
"Yes, this is my very first online series as a director. It was very tiring but fulfilling at the same time since we did it while we are still in Community Quarantine. But everything was really smooth and easy because we have professional partners and talents."
Aki Torres used to be a wicked boss in My Day: The Series. Now, he portrays a young superstar in My Toxic Lover. He feels proud of this project as he added:
"If you fell in love with Ace Tan in my previous series, you will surely love and hate me in this new project. I'm so proud of this new series because I just loved the people behind it, specially PEPPs TV production and my co-stars. Exciting story, superb production team, and talents."
The Cast
Aside from Iñaki Torres and Kevin Salgado, My Toxic Lover stars Shanice Eve Bailon, Kristel Galang, Solo Adriano, Alia Torres, and Kim Gonzaga among others. It also stars Melanie Mader, Mark Alvero, Darrell Castillo Ralph Daniel Lacsamana, Renz Lagria, and Darren Jaojoco among others. Jace Geron, Bench Ortiz, Joseph Xavier Pili, Zenah Padilla, and Emery Gil also stars the series. Of course, there will be special participation from Jessie Maloles, Rose Santiago, Lara Morena, Jhune Salud, Ela Krysel, Warren Munar, Rye Baile, Drei Arias, and Keann Johnson. 
Iconique, La Vita Nouva (LVN), TCMI Fashion Academy International, Ryan Chris House of Fashion, Bless Las Paellas, Josephine Events Place Aqua Wood Garden Resort Hotel and Restaurant, The Banquet Hall East, Bless Amare Sunrise Beach Resort, FOGSTOCKS Real Estate Leasing support PEPPs TV and My Toxic Lover.
Warner Music Philippines' Paul Pablo performed the official soundtrack Bangin. My Toxic Lover will have twelve episodes for the first season. Solo Adriano, on the other hand, performed Worth The Wait. My Toxic Lover will have twelve episodes for the first season. Aside from that, it will also air every 9PM on Saturday, Philippine time. You can watch it through PEPPs TV YouTube Channel. Meanwhile, the series will be available in over forty languages.
PEPPs Partners
Fabularized Smile by Dr. Chad Fabular
El Bottega Breakfast Kitchen
Kendi Beauty Lounge and Wellness
Beyond Aesthetics, KONZEPT
Bless Amare Group, Bless Okiniri Japanese Resto, Bless Amare Café, Bless Amare Boutique Hotel
Pink Rose Vlog
Contact Network Group
Mr. SPEAKS
Special Thanks To:
Redj Sayco Photography
Red Punzalan Photography
Jai Murcillo Photography
Jhomz Buenaobra
King Jordan Maginang
Hair and Make-Up Stylists
Joey Namayan
Edrick Paz
Mother J Samonte
Wendy Martin
Graphic Artist
Zed Lopez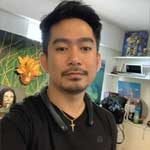 Josh Austria
Aside from being a businessman, Josh Austria has been working in PR and media industry for more more than a decade. From his years of experience as the Marketing and Advertising Head of Village Pipol Magazine, he has built strong relationships with creative people, brands, and organizations.