Superior Son: Ken Suson's new clothing line sold-out after launch
Ken Suson
Ken Suson, a Filipino idol, is a young CEO at 24. Aside from being a singer, dancer, rapper, choreographer, and producer, he is now also an entrepreneur.
Last night, November 26, he launched his self-established clothing line called "Superior Son." And like its name, the reception is par excellence.
Mr. CEO, Ken Suson
Felip Jhon Suson, or famously Ken, is a member of Pinoy pop group SB19. For their fans (A'TIN), he is described as the silent type, or often introverted. At times when he is either not, he acts unreserved usually surprising his admirers.
However, around June this year, he brought a different type of astonishment to his fans. That is when he revealed through an Instagram story the brand "Superior Son" along with his name, with a CEO title.
In the past, Ken has always shown great interest in launching his own apparel. Thus, supporters promptly picked up when he dropped the clue. With their idol, at last, going after his endeavor, they are both astounded and happy.
And that is how CEO Ken Suson is born!
The flight of Superior Son
Shortly after the revelation, social media has been an open journal to account for Ken's process in fulfilling one of his biggest dreams. That is particular to his Twitter and Instagram, where he shared updates to his fans that are most excited than anyone.
For instance, in August, he teased his followers with a series of uploaded sketches. The young CEO himself took charge of creating his own brand's designs.
At the same time, Ken was immersed in the preparations of his solo debut. He was the first in his group to have done this along with engagement as the main dancer of SB19.
He juggled the hectic everything which nonetheless, wowed the fans.
Moreover, in October, through an interview with broadcaster Karen Davila, Ken disclosed that he had ordered clothing materials from abroad. The hands-on newbie entrepreneur wanted to assure high-quality products.
Finally, after months of meticulous preparation, Ken announced on November 20 the pre-order date for his much-anticipated clothing line.
Superior Son: The superior launch
It was on November 26, a day only before their big concert, when Ken chose to launch Superior Son. Communicating with his followers through social media, the internet is also where he provided further details.
For the premiere of his brand, two exclusive products were offered for the first batch of pre-orders— one, a hooded sweatshirt, and two, an oversized black shirt with a dual variation of psychedelic Greek core aesthetic design. Both have the classic Superior Son signature
In less than an hour of the release, shirts were the first to go out of stock. It came together with the news that the shop's GCash account was instantly limited to transact.
As a reaction, fans took to Twitter to run their imagination both in making assumptions and sparking their humor.
For once, a user speculates how much money possibly went through in a short while:
Another one laughingly called their co-fans a 'scam' for claiming they are broke before the launch:
Meanwhile, witty banter from this user earned engagement:
A complete sellout
The night of the Superior Son's launch left a trace at the Philippine Trends on Twitter. Support poured out from fans as the #PreOrderSUperiorSON hashtag trended on number 1 with nearly 20,000 tweets. Behind this, of course, is the well-nurturing A'TIN.
Furthermore, fans also commended Ken and his team behind. From promotion, execution, up to tending to concerns, the process has been smooth so far.
Good news then eventually came apart from the shirts' quick sold-out.
At around 7 pm on November 26, Superior Son announced a complete sellout on all premiere products released for the launch. That is huge for not even a day-old brand!
With hard work that paid off to favorable results, Ken penned a message (through his brand's account) to thank the fans:
"Words cannot even begin to describe how thankful we are for all your love and support for the brand. Thank you for the outpouring of encouragement and kind words to our team.

For now, we'll get to work and do our best to fulfill all the orders for the first round of pre-orders. Please stay tuned for our announcements."
Congratulations CEO Ken Suson and Superior Son! We look forward to more explosive presents in the future. Until then, we'll stay eternal!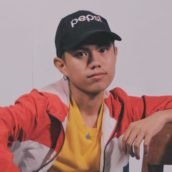 Renzneil Robles
Renzo is an introvert who prefers to do things at his own pace. Unlike most writers, he reads lazily. Watching Korean dramas at night is his constant source of comfort. Although oftentimes commended for being outspoken, he speaks better through writing than with his words.