BSP warns of fake bills from ATMs
A few days ago, the Bangko Sentral ng Pilipinas (BSP) reminded Filipinos to carefully inspect bills coming from ATMs.
Increasing reports of fake bank notes
According to the institution, the public must regularly inspect banknotes for authenticity through the "feel, look, tilt" approach. It added,
Should a banknote dispensed by an ATM be suspected as a counterfeit, the holder is advised to immediately report it to the bank that owns the machine.
Moreover, BSP explained that the bank that owns the ATM would conduct a thorough investigation. They will verify ATM dispensed the fake banknote. If they were able to validate the claim, the bank should replace the bill in question as per BSP.
Also, the central bank added that all banks employ adequate risk management measures to prevent such incidents. It explained further,
Aside from the installation of cameras at ATM areas, cash handlers and service providers tasked to refill ATMs are trained to detect counterfeit banknotes or verify their genuineness before placing them in ATMs.
Under Republic Act 10951, counterfeiters of Philippine currency are subject to a sanction of at least 12 years in prison and a fine not exceeding PHP 2M. From January to September 2020, the BSP confiscated more than 500 fake banknotes with a notional value of PHP 480,000. Its seven enforcement operations also resulted in the arrest of 16 suspects, 14 of whom were members of crime syndicates.
Here are some indicators from BSP to check if your paper money is fake or not :

Feel
Security Paper: Money is printed on high-quality textiles and feels different from the usual paper.
Embossed Print: Running your fingers across the bill should help you feel out certain embossed marks or bumps.
Tactile Marks: These marks are in place to help visually-impaired individuals differentiate the denominations, but they can also help you determine if the bill is legitimate.
Look
Watermark: The face of the bill should be present on the right side of the banknote as a faint shadow.
Security Fiber: The paper used for printing money also has other fibers and textiles for a sturdier finish that is difficult to replicate. If you see tiny lines on your cash, those are security fibers.
Asymmetric Serial Number: This random set of numbers is registered with the BSP. It means the banknote you're holding is real and legitimate. Take note that the numbers ascend in size from left to right.
See-through Mark: Hold your money against the light and a bit of it should pass through the bill.
Tilt
Taking the bill in your hand and shifting from side to side will reveal extra features you won't find on fake bills.
Security Thread: This series of dashes run vertically across the bill and varies shades depending on the denomination's color
Concealed Numerical Value: This number should match the bill's denomination
Optically Variable Ink: This feature is present on the 500- and 1,000-peso bills.
Optically Variable Device Patch: This feature is present on the 1,000-peso bill only and can be spotted on the left portion of the bill.
Enhanced Value Panel: This feature is present on the 500- and 1,000-peso bills only. Both notes have the denomination printed in a thicker font on the upper left corner.
We hope this guide can help you determine if your money is real or it's just colorful paper. What do you guys think?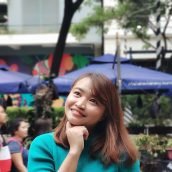 Queenie Lastra
Queenie Lasta got her bachelor's degree in Communications Research from UP Diliman. In her free time, she likes to read thriller novels, psychology books, and mangas. She believes in the importance of grit, hard work, and passion to become a great writer in the future.