Heart Evangelista-Escudero recently fired back at people pressuring her to get pregnant and be a mom.
When you see all those unsolicited advice and rude comments online, you would really get her point. Last September 6, there was an assortment of screenshots, including TikTok users' opinions about her body.
One netizen posted,
"Sayang lang ang ganda ng katawan, hindi mabuntis ng asawa."
Heart: "Nobody knows the real struggle"
She finally had enough and responded to a tweet by saying,
"Stop telling me to get pregnant unless you really want to hurt me. Nobody knows the real struggle."
Note that this is not the first time for the actress and fashion icon to call out people who have been pushing or criticizing her into having a child.
Last 2020, Heart retorted the comment that she needs to have a baby so badly. Heart previously tweeted that pregnancy is a "sensitive topic" for her. It could be recalled that she had a miscarriage, so it's totally understandable that she's still processing the trauma.
People who have nothing to do with Heart but pressuring her to get pregnant are just a microcosm of childless Filipinas' experience nowadays. Why? Several social media platforms and individuals will ridicule those who choose a life without children.
Motherhood is not for everyone
For me, being a mom is much like going into a specific job, such as being a doctor. You must have a certain level of compassion, a heart to discipline your child, and the strength to persevere through sleepless nights and crying fits. Do you think everybody can do these?
For women who choose their career or their passion in life or even those who just don't think motherhood is for them: it's okay. It's important to respect other's preferences to be childless. Our Pinoy culture often dictates that women should be a mom: to reproduce and take care of their children as if that's the thing they can only do.
Remember, these are merely social constructs, and guess what– you do not have to force yourself to live by them. You go out there and have a successful career, a happy marriage, and a fulfilled life. It's perfectly fine if you're not everyone's cup of tea.
We agreed on what Heart has said to her critics,
"Baby or not, I am very happy with my life. I have a loving family, a home, and a solid relationship with God. Contentment is what I have and that my dear is hard to achieve."
She recently came home from her fashion duties, including attending a prestigious event hosted by Vogue magazine. She also went to the United States to promote her collaborative art exhibit with Incubus lead singer and composer Brandon Boyd.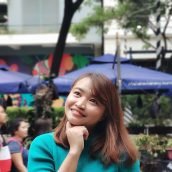 Queenie Lastra
Queenie Lasta got her bachelor's degree in Communications Research from UP Diliman. In her free time, she likes to read thriller novels, psychology books, and mangas. She believes in the importance of grit, hard work, and passion to become a great writer in the future.