A Pinoy Engineering student invented a motion-activated alcohol dispenser
Photo from Angelo Casimiro/Facebook
The World Health Organization and other medical professionals couldn't stress enough the importance of proper hygiene. Yes, we should maintain our hand's cleanliness regularly to avoid COVID-19 infection. But if you're on-the-go, your best option would be antibacterial wipes, sanitizer, or alcohol.
A relevant invention from recycled materials?
With this in mind, a young Filipino inventor came up with a brilliant idea. He was able to develop motion-activated and hands-free alcohol or liquid soap dispenser. According to a report by a news show last Saturday, this latest invention is from Angelo Casimiro. Casimiro is an  Electronics and Communications Engineering student from De La Salle University.
As early as ten years old, Angelo has been making inventions and sharing them online. The previous projects include a DIY power bank, a water-powered flashlight. He also made a working life-sized Star Wars BB8 Droid that is made out of a beach ball, paper-mâché, and Styrofoam. Google Science Fair Philippines also gave him a recognition for his electricity-generating in-sole footwear. This invention allegedly can charge a cellphone.
This young inventor told that he developed this project during the lockdown, and created it using recycled materials like coffee jars, old USB cables, and plastic tubes. Also, he said that he was able to assemble the device with a pump, transistor, and low-cost motion sensors. He explained that Filipinos were naturally resourceful and therefore "think of ways how we can help the environment but at the same time, ways para makatipid tayo, tapos hindi nagsa-sacrifice ng quality."
In addition to that. Casimiro suggested that old and discarded materials may prove to be beneficial for other purposes. "Why not 'yung purpose nung mga lumang materials (ay) para gumawa ng mga products or at least mga contraptions or machines na pwedeng makatulong," he said.
The motion-activated dispenser can help avoid infection and diseases
Angelo recorded a public awareness video and posted it on TikTok on how to properly wash hands and apply alcohol or hand sanitizer especially during this time. Casimiro added, "Importante kasi 'yung hygiene, lalo na ngayon, so makakatulong pag naging contactless 'yung paghawak ng dispensers."
This proves that with the right perspective, this young generation can do something beneficial for others. Do you guys agree?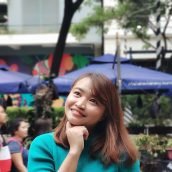 Queenie Lastra
Queenie Lasta got her bachelor's degree in Communications Research from UP Diliman. In her free time, she likes to read thriller novels, psychology books, and mangas. She believes in the importance of grit, hard work, and passion to become a great writer in the future.