With the ongoing curfew in the NCR+ areas, buying food and other necessities beyond 6 PM is no longer possible. That's why we're quite thankful for the hard work and dedication of food delivery riders. After all, they are front-liners who are braving the risk of exposing themselves to COVID-19 just to do their job. Hungry Syrian Wanderer performs acts of kindness to food delivery riders – essential workers who deserve recognition.
People should stop pranking delivery riders
Sad to say, there are still those people who don't have empathy towards these delivery riders. One proof is the viral video of an Angkas rider who was tearing up after receiving a "fake order" past midnight. The Angkas rider, who happens to be a certain Supher Rallos on Facebook, said "Nagtratrabaho ako ng maayos eh", while wiping away his tears from frustration.
His fellow riders took pity on him and tried to console him by buying the food worth PHP 599. After that, they requested the fast food crew to allow him to return the order. The good thing is, they let him return it and gave him a refund.
A way of thanking hard-working delivery riders
Amid increasing reports of fake bookings, the popular Internet personality Hungry Syrian Wanderer rewards cash to food delivery riders. In another heartwarming vlog, Hungry Syrian Wanderer or Basel Manadil in real life said that he just want to make these riders happy. He did not only gave cash to delivery riders he ordered food from, but he also handed some cash gifts to those waiting outside the road.
Basel also appealed to netizens to stop ill practices of fake bookings and pranks. He pointed out that these riders experienced a lot of hardships just to earn money in a decent way. "Please stop doing pranks or canceling orders and sabotaging their income, time, and effort. These people are hard-working and deserve nothing but the best. Working very hard just to deliver our food cravings even during this crisis that we are facing."
At the end of his vlog, Hungry Syrian Wanderer expressed his sincere gratitude to all riders. To be honest, these food delivery riders deserve respect for what they are doing. They are making our lives easier, especially for those who cannot go out because of their age or health conditions. Like all of us, they just want to work so they can put food on the table. Please show some compassion.
Do you guys agree?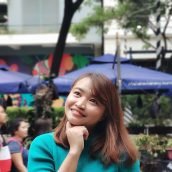 Queenie Lastra
Queenie Lasta got her bachelor's degree in Communications Research from UP Diliman. In her free time, she likes to read thriller novels, psychology books, and mangas. She believes in the importance of grit, hard work, and passion to become a great writer in the future.