Voters voting wisely is an act of practical wisdom. If we choose wise leaders, they will help make the rest of the society wiser too. Then everyone wins. But in order to do that, one should do intensive research about the candidate's platform, advocacies, and political accomplishments.
Tendency to choose candidates who are from political families?
There are many reasons why we choose to vote for a certain candidate. There are people who value family name or legacy, others focus on fame and charisma.
But according to the executive director of Pulse Asia Ana Maria Tabunda, many Filipinos choose candidates with personality and familiarity as the basis. She added,
"Ang pagpili ng tao natin ng kandidato batay sa personality eh. 'Yung tingin nila, concerned sa kanila. 'Yung pagkakilatis nila, concerned sa kanila. Ganoon sila pumili eh."
Furthermore, Dr. Tabunda said that candidates who come from political clans tend to be more popular. She said that some of the respondents consider if they came from a certain family, generations of politicians.
"Mas nakakarami 'yung binabatay lang sa pagkakilala nila na hindi malalim, hindi malalim 'yung pagsiyasat nila kung anong nagawa."
Difficulty in educating all voters
Dr. Tabunda emphasized voter education is important. However, she admits that it's hard to educate all voters. She even shared,
"Mahirap ho 'yan. May mga kakilala ako, nag-FGD (focus group discussion) sila. Sa umpisa tatanungin nila, 'Sino'ng iboboto ninyo? Tapos ibibigay nila. Pagkatapos ng talakayan, mag-iiba 'yung boto kasi nakakuha ng impormasyon. Pero hindi mo naman ma-FGD lahat ng botante."
On the other hand, Tabunda said the recent survey from the organization showed that the public was more concerned with issues close to them, such as the price of goods or wages.
The top five concerns of the respondents included controlling inflation, increasing worker pay, controlling the spread of COVID, reducing poverty, and fighting graft and corruption in government.
Meanwhile, issues like the West Philippine Sea were not a priority for them. This is clearly due to the fact that it did not directly relate to their everyday lives.
Research and explore before making that decision!
Yes, voting is making a decision based on your specific opinions or bias, but oftentimes, people have preconceived opinions about certain topics and issues. However, let's take a reality check. It's a whole country that is going to be affected by this important decision.
This is why it is crucial that every voter makes an effort to educate themselves on politics. It doesn't hurt to listen to differing opinions from yours unless they are truly discriminatory and destructive.
Going out of your way to explore varying opinions on social issues can often be an eye-opener. As a result, you'll the opportunity to learn why some people have certain beliefs.
What are your considerations in choosing a candidate and why?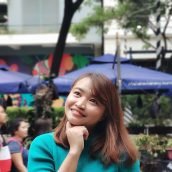 Queenie Lastra
Queenie Lasta got her bachelor's degree in Communications Research from UP Diliman. In her free time, she likes to read thriller novels, psychology books, and mangas. She believes in the importance of grit, hard work, and passion to become a great writer in the future.