Dating rumors abound after Jake Cuenca, Chie Filomeno's tease on Instagram
Photo | Jake Cuenca (Instagram)
Netizens are assuming the brewing romance between Jake Cuenca and Chie Filomeno following the former's most recent social media update.
On Monday, Cuenca set his Instagram feed to sizzle after sharing his Metro Body 2023 pictorial with Filomeno. In the picture, both looked stunningly attractive as they showed skin and posed in a sultry embrace before the camera.
Moreover, with their tanned bodies on display, Cuenca and Filomeno are turned toward each other while locked in an intense gaze. Cuenca captioned the post, "If you never shoot, you'll never know." The line urges taking chances and is a reference from The 1975 song, Robbers.
Thus, the smoldering chemistry of Cuenca and Filomeno led many to wonder about their actual score.
Jake Cuenca admits admiration for Chie Filomeno
Before this event, the two actors were observed in each other's company at a Star Magic gathering on Thursday. Cuenca also spoke to the media to reveal more details concerning his current love status. He readily answered a question about his relationship with Filomeno.
"I'm admiring [Chie], I guess I can say that. [And] she knew that I'm admiring her," Cuenca said, according to an Instagram reel uploaded by ABS-CBN.
However, the 35-year-old hunk clarified, "But for anything, it's just something like we've known each other for a while. We're enjoying each other's company."
Cuenca had been in a romantic relationship with Kylie Verzosa for three years before confirming their split in April 2022. He emphasized that there was no bitterness in their breakup.
Meanwhile, the Filipino-Scottish actor Alex Diaz was last known to have a romantic tie with Filomeno. In the past, dating rumors linked her with Kyle Echarri and Mark McMahon.
What are your thoughts? Do Jake and Chie make a good pair?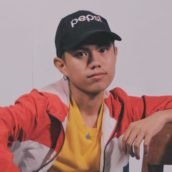 Renzneil Robles
Renzo is an introvert who prefers to do things at his own pace. Unlike most writers, he reads lazily. Watching Korean dramas at night is his constant source of comfort. Although oftentimes commended for being outspoken, he speaks better through writing than with his words.