Quaker Oats Makes Holiday Food 7x Healthier and Tastier
Holidays are the perfect time for family reunions and get-togethers with friends, loved ones, and colleagues. Wouldn't it be better if your Christmas spread will not just be tasty, but also nutritious?
Quaker Whole Grain Rolled Oats is your new go-to main ingredient in creating better-for-you food for the holidays.
Quaker Oats has seven times more fiber vs. long grain white rice that aids digestion and powers up your day. It also has Beta-Glucan which helps lower cholesterol levels.
When meals are created with Quaker Oats, you will change the way you think about healthy food not being tasty! Now you can indulge in holiday eating with less guilt—all just the good stuff!
Ready to try out holiday food with Quaker Oats? Start with these recipes:
CHOC'OATS FLAKES
Try this as a midnight snack, or as Christmas gifts!
INGREDIENTS:
Serves 15-20 pieces
1/5 cup Quaker Rolled Oats
1 cup Chocolate (can be milk, white or dark)
1/5 cup Corn Flakes
1/8 cup Pinipig
2 tbsps Margarine
COOKING INSTRUCTIONS:
Melt chocolate and margarine using a microwave oven or double boiler. Mix it often with a spoon to avoid burning it. Mix all ingredients together.
On a tray or a plate (that can fit your refrigerator), place a parchment paper
Using a spoon, create small piles (one-bite size) with the mixture. Leave it in the refrigerator for at least 4 hours
Remove it from the tray and plate.
OATS CHOCOLATE MUFFIN
Best paired with your favorite cup of coffee!
INGREDIENTS:
Serves 4-6 muffins
1/3 cup Quaker Rolled Oats
1 cup Flour
1/2 cup Chocolate
1/3 cup Margarine
1/4 cup Milk
1 Egg
3.5g Baking Powder
I pinch of Salt
COOKING INSTRUCTIONS:
Melt margarine in the microwave oven. Add milk and egg.
In a bowl, using a fork or a whisk, mix flour, oats, sugar, baking powder and salt
Combine these 2 preparations together slowly to avoid clumps. Add the semi-sweet chocolate chips to the mixture.
Fill 3/4 of the molds and bake for 15-20 minutes at 200°C
Serve and eat.
Oats & Tuna Mushroom Risotto
Serve this as a main course in your potluck gathering, or during Noche Buena!
INGREDIENTS:
Serves 1 big tray
2 cups Quaker Rolled Oats
4 cups Broth (can be vegetable, pork or chicken)
1 cup Fresh or Canned Mushrooms
I can Tuna
1/2 Onion
7 Sprigs of Spring Onion
Salt (as needed)
Pepper (as needed)
*Mushroom can be substituted by any other vegetable
COOKING INSTRUCTIONS:
In a saucepan, simmer chopped onions, spring onions, and mushrooms together until translucent, then add tuna.
In another saucepan, put Quaker Rolled Oats and slowly add the broth (around half a cup each time) until the consistency is thick but flowing.
Combine tuna mix and oats risotto
Serve in a big tray and garnish with spring onion
Also, don't miss out on Quaker's holiday deal: Get a free can of tuna when you purchase a 1.2 kg bag of Quaker Rolled Oats for only Php 180. This promo is available in all leading supermarkets from now until supplies last!
For more oat-astic holiday recipes that are 7x healthier and tastier, follow Quaker Oats Philippines on social media!
Facebook: https://www.facebook.com/QuakerOatsPhilippines
Instagram: https://www.instagram.com/quakeroatsph/?hl=en
TikTok: https://www.tiktok.com/@quakeroatsph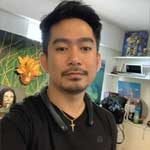 Josh Austria
Aside from being a businessman, Josh Austria has been working in PR and media industry for more more than a decade. From his years of experience as the Marketing and Advertising Head of Village Pipol Magazine, he has built strong relationships with creative people, brands, and organizations.