ShowBT Philippines' pioneer girl group KAIA has just released a brand-new performance video of their song titled KAYA last June 10. Now uploaded on YouTube is the acoustic twist to their original upbeat electro-pop track.
KAYA is the quintet's pre-debut piece launched on November 10 last year. With lyrics written by the members, it was meant to introduce both the act's potential and the girls' diverse and exciting personalities.
Meanwhile, for fans (also called ZAIA), KAYA is an anthem of inspiration in pursuing their passion. It sends a message on how to fulfill dreams by believing in oneself regardless of doubts and challenges.
In its acoustic version, KAIA has given new flavors to KAYA in a more classic way. In the video, members performed the song with various instruments, including guitars and beatbox. While they may have made it so easy, displaying live vocals and playing the accompaniment is a natural talent the viewers appreciate.
"KAIA never failed to impress me. You five are very talented, and this performance proves it," says one fan in a comment section.
"No doubt KAIA is from SBT. They have what it takes to be the perfect P-Pop girl group. Chemistry is there, unique vocals are present, rap line is very good, even their stage presence!" another complimented, stressing their observations.
Composed of Sophia, Angela, Charlotte, Charice, and Alexa, KAIA debuted with BLAH BLAH in April 2022. They are continuously making waves as one of the finest girl groups in the P-Pop community.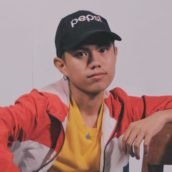 Renzneil Robles
Renzo is an introvert who prefers to do things at his own pace. Unlike most writers, he reads lazily. Watching Korean dramas at night is his constant source of comfort. Although oftentimes commended for being outspoken, he speaks better through writing than with his words.