Introducing your 4th VP Choice Awards hosts
Attention, Pipol! We are so close to witnessing the return of the 4th VP Choice Awards (VPCA) live ceremony.
VP Choice Awards is the most engaged award-giving body in the country, produced by Red Entertainment, Inc. and Village Pipol. It recognizes the prime and supreme in the travel, entertainment, lifestyle, technology, and business industries.
Moreover, for its 2022 installment, the highly anticipated event welcomes the theme Supernova: Our Brilliant Burst of Light. The public voted for their favorites among the almost 100 accolades presented, and the judges followed with their deliberation proper.
As VPCA resumes its prestigious awards night, three individuals were carefully selected to host the much-awaited gathering. They will accompany the Pipol in uncovering the brands and individuals who will bring home the victory.
Here are your hosts for the 4th VP Choice Awards:
Joy Barcoma
Joy is a model, host, public servant, and mental health advocate. She is best known for being one of the candidates for Miss World Philippines in 2021. In the same year, she was the recipient of the Beauty with a Purpose award.
Aside from her political affiliations, Joy is also an ambassadress for the non-profit organization, Love Yourself Philippines. She regularly participates in several events when hosting pageants or speaking for programs and campaigns.
JV Cruz
Jessevic Gil Cruz, or JV, is a host for events and television, an actor, and a licensed financial advisor. He has worked with Barbie Forteza and Ken Chan in This Time I'll Be Sweeter and with Ronnie Liang in Esoterika: Maynila.
In a 2020 interview with Village Pipol, JV described hosting as an "important role." He believes the practice is beyond just a profession, enabling him to connect with different people. As an entrepreneur, he is also unafraid to challenge himself for growth.
Martin Javier
Martin is a famous sports anchor and an artist currently being handled by the GMA talent agency, Sparkle. He has frequent television appearances for his stint in the National Collegiate Athletic Association (NCAA) with Sophia Senoron.
Besides his involvement in sports, Martin appears in a few other Kapuso talk shows and programs on the network. This year, his hosting prowess earned recognition at the 2023 Platinum Stallion National Media Awards, bagging the Best TV Sports Program Host.
Rain Matienzo
Rain is an online personality who started a career in TikTok through her viral videos as the Conyo Girl. She is a host and a former courtside reporter for Adamson University during the 82nd season of the University Athletic Association of the Philippines (UAAP).
Furthermore, Rain entered showbiz and is now an actress signed in under GMA's Sparkle. In 2022, she debuted in the legal crime series Artikulo 247. To date, her recent and most notable role is Salome in the hit historical drama Maria Clara At Ibarra.
And there you have the hosts for the 4th VP Choice Awards!
Don't miss the awarding ceremony happening this March 29 at the Glass Garden Evangelista Avenue, Pasig City.
The 4th VP Choice Awards is presented by Casino Filipino while co-presented by itel and FLEEK, respectively. Meanwhile, Evnia, Tea Ni Juan, Chow Panda – Dimsum, SIP water, SMPO Philippines, and Bayong Republic are our sponsors.
Collaborators Jhay Layson, True Creators Studio, TEAM TYRONNE, Joey Peria Event and Floristry, Proshot and Philgifts.
The following are our media partners: The Manila Times, BusinessMirror, BusinessWeek Mindanao, Mindanao Daily News, The Market Monitor, BMPlus, PILIPINO Mirror, Cagayan de Oro Times, The Post, Maharlika TV, WhenInManila.com, Blogapalooza, GIZGUIDEPH, Orange Magazine TV, Iconic MNL, and A2Z.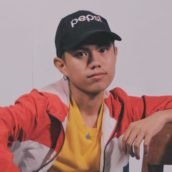 Renzneil Robles
Renzo is an introvert who prefers to do things at his own pace. Unlike most writers, he reads lazily. Watching Korean dramas at night is his constant source of comfort. Although oftentimes commended for being outspoken, he speaks better through writing than with his words.