Meet the official glam team of 4th VP Choice Awards
Attention, Pipol! We are so close to witnessing the return of the 4th VP Choice Awards (VPCA) live ceremony.
VP Choice Awards is the most engaged award-giving body in the country, produced by Red Entertainment, Inc. and Village Pipol. It recognizes the prime and supreme in the travel, entertainment, lifestyle, technology, and business industries.
Moreover, for its 2022 installment, the highly anticipated event welcomes the theme Supernova: Our Brilliant Burst of Light. The public voted for their favorites among the almost 100 accolades presented, and the judges followed with their deliberation proper.
As VPCA resumes its in-person gathering, it will surely be another night to remember. Hence, talented individuals comprise this year's official hair and beauty experts.
Meet the 2022 VP Choice Awards glam team:
Arthur Tolentino
With diverse interests in many things, Arthur describes himself as dynamic. Aside from his love for pop culture, he commits to creative writing, hairstyling, and pageant coaching. Recently, he achieved another significant milestone for glamming the American singer-songwriter Raveena Aurora during the 2023 Wanderland Festival.
Angeli Alfonso
Angeli is a 38-year-old budding hairstylist practicing her craft for three years. She studied makeup artistry at Maquillage Professionnel, an institution focused on cosmetics and beautification. Additionally, she has also completed hair artistry courses, proving her passion for continuously improving her skillset.
Dexter Lopez
Versed in hair styling and makeup, Dexter is proud of his five years of experience in the industry. At 27, he exhibited mastery of his chosen field, being awarded the Notable Makeup Artist by Crystal Magazine in 2022. Besides this, he has worked for prestigious pageants, including Miss Earth Philippines 2022 and Miss Universe Philippines 2023.
Edss Barnillo
Edss is a thriving celebrity makeup artist whose prowess is evident in his 13 years of practice. In that period, he attained multiple milestones, such as becoming the beauty editor of Scenezone Magazine. Meanwhile, some celebrities he has handled include Jane de Leon, Kelvin Miranda, Sofia Andres, and beauty queen Dindi Pajares.
Twinkle Bernardo
The 40-year-old Twinkle is a makeup artist with almost a decade of expertise. She studied makeup artistry at Maquillage Professionnel and attended workshops in the Philippines, the United States, and the United Kingdom. Currently, she is a freelancer for all events and occasions, working with renowned brands and personalities.
And there you have the official glam team of the VP Choice Awards 2022!
Don't miss the awarding ceremony happening this March 29 at the Glass Garden Evangelista Avenue, Pasig City.
The 2022 VP Choice Awards is presented by Casino Filipino while co-presented by itel and FLEEK, respectively. Meanwhile, Evnia, Tea Ni Juan, Chow Panda – Dimsum, SIP water, SMPO Philippines, and Bayong Republic are our sponsors.
Collaborators Jhay Layson, True Creators Studio, TEAM TYRONNE, Joey Peria Event and Floristry, Proshot and Philgifts.
The following are our media partners: The Manila Times, BusinessMirror, BusinessWeek Mindanao, Mindanao Daily News, The Market Monitor, BMPlus, PILIPINO Mirror, Cagayan de Oro Times, The Post, Maharlika TV, WhenInManila.com, Blogapalooza, GIZGUIDEPH, Orange Magazine TV, Iconic MNL, and A2Z.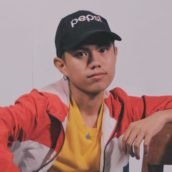 Renzneil Robles
Renzo is an introvert who prefers to do things at his own pace. Unlike most writers, he reads lazily. Watching Korean dramas at night is his constant source of comfort. Although oftentimes commended for being outspoken, he speaks better through writing than with his words.