Parokya ni Edgar to drop new album after five years
Parokya ni Edgar makes their return to the music scene after five years with the release of a new album.
The band's frontman Chito Miranda made the reveal on his Instagram account last Sunday, September 26.
Accompanied by a photo of him and his bike, he wrote,
"Biking mag-isa pa-ikot-ikot sa village, tamang muni-muni lang habang sinasoundtrip 'yong bago naming album,"
Chito expressed excitement about the band's upcoming album and the songs he and his bandmates had written.
Moreover, he admitted his initial feeling of laziness to finish the album, revealing how it had no definite plans.
"Honestly, before this, parang tinamad na ko magsulat…for 5 [years] nakatiwangwang lang yung album, with no definite plans kung kelan matatapos at kung kelan ito ilalabas,"
Furthermore, Chito confessed how he wrote songs with other artists, but he did not feel like finishing the album.
Yet, Parokya ni Edgar had a change of mood, feeling up to the task of finishing their newest release.
Chito also divulged how the album will be released in November of this year.
"Tapos ngayon, bigla kaming ginanahan tapusin, at kinagagalak kong sabihin na maglalabas kami ng bagong album by November,"
The upcoming release will be Parokya ni Edgar's 10th studio album.
They released their last album, "Pogi Years Old," last 2016 under Universal Records. In recent times, they released singles called "Smile" and "It's Masarap."
On the other hand, Chito recently collaborated with Ben&Ben for the song "Swimming Pool" for the folk-pop band's recent album "Pebble House, Vol. 1: Kuwaderno."
We cannot wait for your new music, Parokya ni Edgar!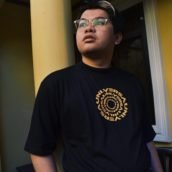 Kobe Adam Joshua Laurena
Kobe Adam Joshua Laurena is a writer who loves to tell stories from the perspectives of different people and everyday life. Apart from the pen, he loves to pick up the lipstick to transform into his frustrated drag persona: Anita Good Lovin'. He aspires to combine his love for writing and drag by creating a novel, short story, or screenplay about local drag queens in the future. He also has an obsession with sitcoms, women's pro-wrestling, and Funko Pops.