Instagram Raid: Ashley Ortega slays in these summer looks
Ashley Ortega, GMA Network's versatile actress, continues to dominate the scene with her angelic face and impeccable talent.
Ashley possesses a variety of skills.
She has hosted the variety show Wowowin, even Village Pipol Magazine's very own VP Choice Awards.
Aside from that of course, she has appeared in television shows such as Super Ma'am, InstaDad, and Legal Wives.
Now, she will be starring in the highly-anticipated GMA TV show, Widows' Web, shedding her it-girl image and blossoming as a more mature lady. Yep, told you she is versatile.
We all know the holidays just went by, heck, we just unleashed fireworks to decorate the night sky. However, we love the heat and summer is just around the corner.
Surely, all of us are looking forward to having sunkissed skin, and for the healing waves of the ocean to come in contact with our bodies.
However, due to a huge wave of flu these past few days, it seems rather impossible and scary. We are responsible citizens after all so we are staying home. Let's just wish all of these get better by the summertime.
In the meantime, let us look at Ashley's Instagram feed and appreciate some fresh looks that give off a summery vibe.
Sunkissed in lavender
This gorgeous lavender two-piece showcases Ashley's beautiful physique as she poses in front of the sea with two surfboards by her side. Nothing screams summer more than this one.
Fun time by the pool
Ashley stuns in this beautiful ruffled tube paired with some shorts, both popping with blue floral patterns. The actress surely enjoys her time by the pool with a cocktail in her hand.
Citrus dream
This, along with the lavender one, maybe one of my favorite swimsuits that Ashley has worn. The pastel yellow clearly complements her skin tone as she sports an also subtle summer hat.
Glowing in white
The actress clearly looks like a goddess by the shore as her long flowy white cover-up dances with the wind.
Pink fantasy
Of course, Ashley looks gorgeous in this beautiful pink co-ord set paired with a rattan bag in her hand.
Lively and sultry
Lastly, Ashley ditches all of her pastels—the lavender, the yellow, and the pink—for this two-piece, designed with bright colorful patterns. The same color palette appears in the braids of her hair.
She looks sexy yet very elegant as she flaunts her beautiful body and stares at us through the photo.
Among all of these beautiful summer looks, which one is your favorite? Sound off in the comments below. Let's all look forward to a fun, healthy, and covid-free summer!
Be sure to catch her upcoming GMA TV Series, Widows' Web this 2022.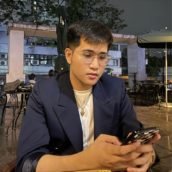 Raphael Garcia
Raphael is a person born between the generations of Millenial and Gen Z. He was produced by Cavite State University (Main Campus) with a bachelor's degree in Political Science. The lad has a fresh take on things, but can still stay true to his roots. He writes anything in Pop Culture as long as it suits his taste (if it doesn't, it's for work). He loves to wander around the cosmos and comes back with a story to publish.