Ganiel Krishnan announced her resignation from the title of Miss World Philippines (MWP) 2021 2nd Princess.
She made the announcement on her social media accounts last Tuesday, October 5.
Krishnan cited her duties as an ABS-CBN lifestyle and entertainment reporter as the reason for her relinquishing the title.
"As you very well know, I have a thriving career as a lifestyle and entertainment news reporter in ABS-CBN before I entered the competition and have never kept my intentions to go back to it a secret, regardless of the outcome of the pageant,"
Despite being honored to be 2nd Princess, she feels she cannot work for two organizations at the same time.
"Realizing this led me into making a decision to pursue the dream which will have the greater impact to actually serving my fellow Filipinos and that is through broadcasting,"
Krishnan expressed her gratitude for MWP National Director Arnold Vegafria and the entire organization.
Moreover, she wished her fellow queens the best of luck in their future endeavors.
Krishnan concluded her post by saying how MWP marked her final pageantry journey.
"I truly am grateful to have joined Miss World Philippines 2021, which also marks my last foray into the world of pageantry. It was one big learning experience for me which, I know, will help me score even greater triumphs in the future. Maraming salamat po,"
Janelle Lewis of Pampanga will be the one to take over as the new 2nd Princess for MWP 2021.
Earlier, Krishnan called out swimsuit designer Domz Ramos for remarks made about her run in the pageant.
She reposted a supporter's comment regarding Ramos and how he bashed Krishnan's pageant stint.
The reporter and beauty queen also responded to the remarks, saying "UNNECESSARY. INSENSITIVE. BULLY."
We wish you all the best in your journey, Ganiel!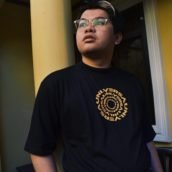 Kobe Adam Joshua Laurena
Kobe Adam Joshua Laurena is a writer who loves to tell stories from the perspectives of different people and everyday life. Apart from the pen, he loves to pick up the lipstick to transform into his frustrated drag persona: Anita Good Lovin'. He aspires to combine his love for writing and drag by creating a novel, short story, or screenplay about local drag queens in the future. He also has an obsession with sitcoms, women's pro-wrestling, and Funko Pops.