Ganiel Krishnan called out a swimsuit designer for some remarks made regarding her stint at the Miss World Philippines 2021 pageant.
The swimsuit designer, known as Domz Ramos, makes swimwear for beauty pageants in the Philippines.
An insensitive bully
On Tuesday, October 5, the reporter and beauty queen reposted her supporter's comment against Ramos.
The post featured her supporter backing Ganiel and the remark made by Ramos.
Ramos said,
"MS. WORLD OR NOTHING DAW EH OH AYAN 2ND RUNNER UP JIVAHHHH."
Ramos made no mention of Ganiel, yet it is quite evident that she was the subject behind the comment.
During the Miss World Philippines 2021 pageant last Sunday, October 3, Ganiel bagged the title of 2nd runner-up.
On the other hand, last May 2021, she made it clear that it was "Miss World or nothing."
Ganiel previously said in an interview with ABS-CBN News,
"Alam mo when you think so much about winning, parang there [is a] lesser chance for you to think about losing. That's what I am doing right now. I am trying to attract positive thoughts all the time. I just really want to stand by what I said. It's really Miss World or nothing because I am really aiming for the World. 'Yun talaga 'yung gusto ko,"
On her social media accounts, Ganiel made a short but direct response to Ramos' remarks, saying,
"UNNECESSARY. INSENSITIVE. BULLY."
Discrediting hard work
Moreover, she agreed with her supporter named Jerome Balute, who first commented on Ramos.
Ganiel reposted Balute's comments, saying,
"If there is one thing that was made clear after the recently concluded Miss World Philippines pageant is that Domz Ramos is a bully. Even if he didn't mention Ganiel Krishnan's name in his post, it was clear as day that he was throwing shade at the beauty queen, using her famed answer during the MWP screening 'MWP or nothing' and even added her MWP placement,"
Furthermore, Balute called out the bashing culture among Pinoy pageant fans and said Ramos has stained the reputation of Binibining Pilipinas, where he is the swimsuit provider.
"As the swimsuit provider of Binibining Pilipinas, it also stains the reputation of the organization because of his affiliation so I am hoping that he will be reprimanded or dropped because of his bullying ways,"
Also, Balute believed now is the time to call out people who find "satisfaction over other people's heartbreak and misery."
"What bothers me most is that he doesn't even show remorse because this isn't the first time he bullied a candidate. It discredits the sacrifice and hard work of the candidates and no one, regardless of his affiliation with any organization, has the right to invalidate the dream of any Filipina by bullying,"
Prior pageant experience
Prior to joining Miss World Philippines, Ganiel joined the Mutya ng Pilipinas pageant in 2016.
She bagged the title of Mutya ng Pilipinas Asia-Pacific International during her stint in the pageant.
That same year, Ganiel got the title of 2nd runner-up at the Miss Asia-Pacific International.
Moreover, she does her duties reporting entertainment news as a Star Patroller in TV Patrol.
What do you think of this issue on Ganiel being bashed? Let us know in the comments section!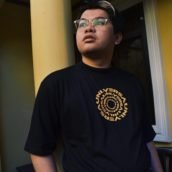 Kobe Adam Joshua Laurena
Kobe Adam Joshua Laurena is a writer who loves to tell stories from the perspectives of different people and everyday life. Apart from the pen, he loves to pick up the lipstick to transform into his frustrated drag persona: Anita Good Lovin'. He aspires to combine his love for writing and drag by creating a novel, short story, or screenplay about local drag queens in the future. He also has an obsession with sitcoms, women's pro-wrestling, and Funko Pops.