Adele teased fans of her new single "Easy On Me," her first music since the release of her award-winning 2015 album "25."
The British singer posted a video clip on her Twitter and Instagram accounts last Monday, October 5.
It was a black-and-white video of Adele driving off in a vehicle carrying packed belongings.
Soft piano tunes play in the background while music sheets fly out of the car window as she drives.
In the caption for the video, she wrote how "Easy On Me" will be released on October 15.
Over the past few days, fans have talked about how she will release new music.
This is in line with the number 30 being shown on signs on top of buildings around the world.
Adele has named past albums with her age, specifically "19," "21," and "25."
The latter album was released last November 2015, selling over 22 million copies in the entire world.
The Grammy Award-winning artist is best known for her hits like "Hello," "Someone Like You," and "Rolling in the Deep."
We cannot wait for your new music to take us on another emotional trip, Adele!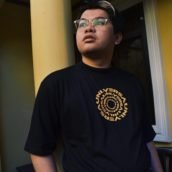 Kobe Adam Joshua Laurena
Kobe Adam Joshua Laurena is a writer who loves to tell stories from the perspectives of different people and everyday life. Apart from the pen, he loves to pick up the lipstick to transform into his frustrated drag persona: Anita Good Lovin'. He aspires to combine his love for writing and drag by creating a novel, short story, or screenplay about local drag queens in the future. He also has an obsession with sitcoms, women's pro-wrestling, and Funko Pops.